The Internets Largest and Most Detailed Catalog of Both Revere and General Electric (GE) Westminster Clocks from 1928 forward!

Completely Updated! -More Clocks! -New Easier Format!


Unknown Revere Models
The following pictures are from actual Revere clocks that we have serviced or sold, plus additional pictures provided by viewers and from Tom's vast collection.
We have listed the clocks in a random order since no model numbers are known yet. Please note that we are continually working on these galleries with new clocks being added as we receive new information and pictures. If your clock is not pictured here it does not mean it doesn't exist! We probably haven't gotten it listed yet, or are unaware of it and do not have any pictures or documentation.
If your clock IS listed here, and you know the model or other information, please let us know.
We are not listing any of the GE nor Telechron '6 Series' Strike only clocks at this time.
Click on any picture to enlarge
***** REVERE CLOCKS GE CLOCKS UNKNOWN MODELS *****
***** QUICK-LOOK AT ALL CLOCKS *****
Page 2

Unknown-Page 1 Unknown-Page 2



---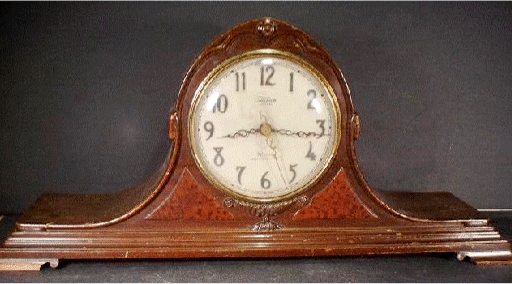 Make: Revere
Model: Unknown 12
Date: 1937

Case: Mahogany veneer with burl overlays and carved decorations.
Dial: 5" White painted dial with raised black numerals.
Details: A decorative design for a tambour with overlays and carvings. We've only seen this clock once in 2005.



---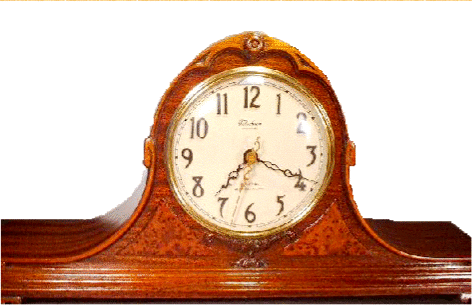 Make: Revere
Model: Unknown 13
Date: 1937

Case: Mahogany with Burl overlays and hand carved trim.
Dial: Painted cream with raised black numerals.
Details: We had this clock in 2005 and sold it but never did find a model number for it. A basic tambour design with overlays and some nice ornamentation and carvings.
8 1/2" H X 18" W X 4 3/4" D


---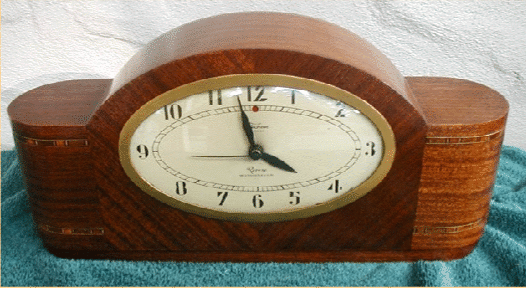 Make: Revere
Model: Unknown 14
Date: 1937

Case: Various grained Mahogany with two inlay strips that extend all the way around the back.
Dial: Oversized oval Cream dial with painted black numerals.
Details: Notice the beautiful use of the Mahogany and the clean modern design. A large flat bezel and an intricate dial give this a distinctive look.
8" H X 17" W X 4 1/2" D

---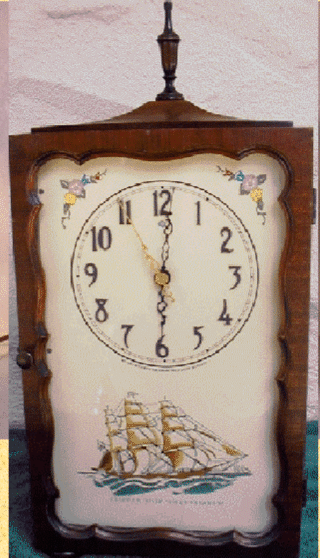 Make: Revere
Model: Unknown 16
Date: 1940

Case: Mahogany with carved decoration and finial.
Dial: Hand painted dial with floral upper corner design and lower ship design.
Details: We are aware of other clocks of this design but they had different painted designs on the dial. All appear to have been made in 1940 and we believe they are quite rare.
---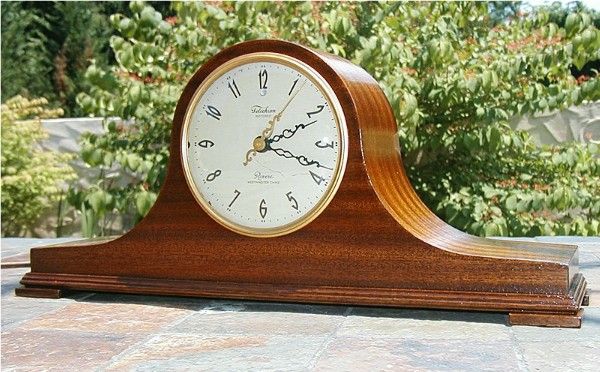 Make: Revere
Model: Unknown 18
Date: 1935

Case: Mahogany with horizontal grained design.
Dial: Silverd dial with black numerals.
Details: We had this clock in for servicework recently from Steve in NH and we were able to date it, but could not determine the model number. It is a simple tambour design with horizonatl grained striped mahogany on the front and a siimple silvered dial. Compact in size.
---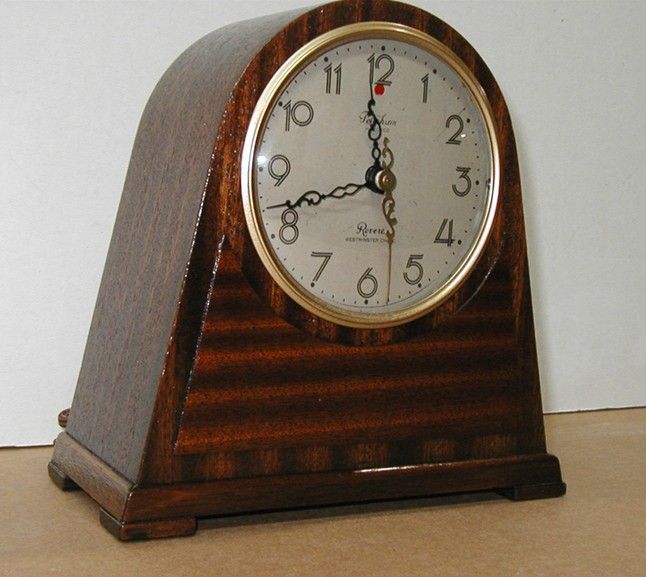 Make: Revere
Model: Unknown 23
Date: 1933

Case: Mahogany with applied panel on front.
Dial: Painted with Outline painted numerals.
Details: This model has a stunning modern-style design. Horizontal Stripped mahogany overlay panel on front with deco-style numerals. Full Westminster chimes on shortened rods.
8 3/4" H X 8 3/4" W X 4" D


---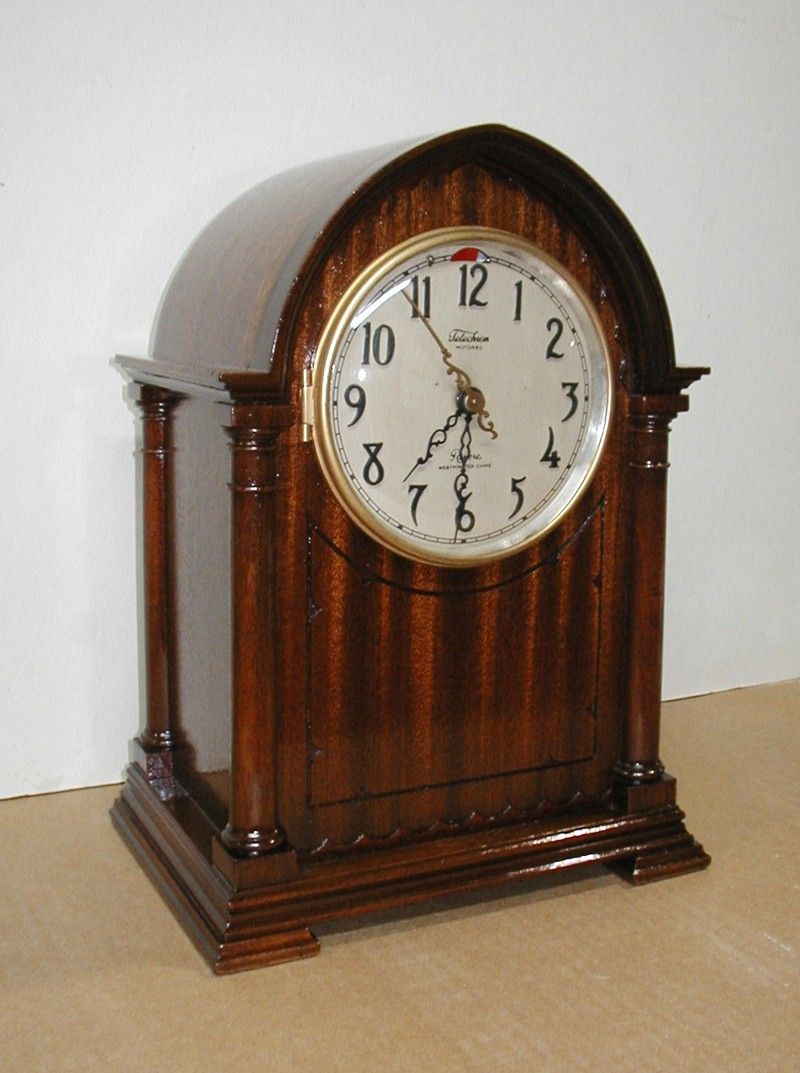 Make: Revere
Model: Unknown 24
Date: 1937

Case: Mahogany veneer with vertical stripped mahogany front. Features scrolls and pillars.
Dial: Silvered dial with painted black numerals.
Details: This model is a beautiful Cathedral style clock similar to others we've seen. It has carvings on the front with pillars at each corner.
13" H X 9 1/2" W X 7" D


---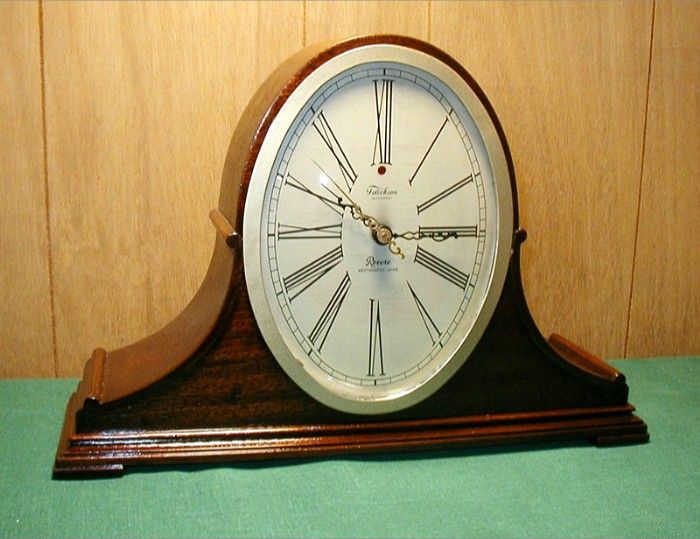 Make: Revere
Model: Unknown 28
Date: 1936

Case: Mahogany veneer with vertical stripped mahogany front. Features side decorations.
Dial: White dial with painted black numerals.
Details: This model has a familiar look and is most likely a variation of a Herschede case. Notice how it resembles the Unknown5 above and the GE 356 'Full Dress'. We found this case as a Herschede 578 'Huntley' released in 1937. This version uses Roman Numerals versus the Arabic Numerals that Revere used mostly. This shows how Herschede, Revere, and General Electric were all using the same parts to develop models - they just used a different name on the dial.
9 1/2" H X 14 1/2" W X 4 1/4" D


---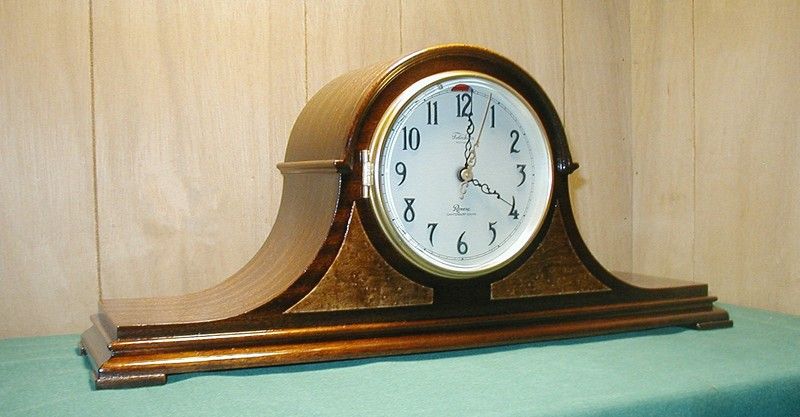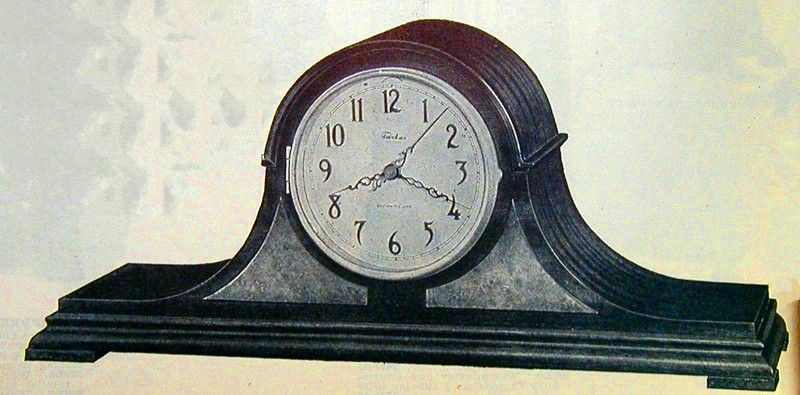 Make: Revere
Model: Unknown 31
Date: 1937

Case: Mahogany veneer with maple overlays
Dial: Silvered dial with black numerals.
Details: A tambour design with bird's eye maple front overlays and side decorations. It is a Canterbury only chiming version and we found it listed in a 1937 catalog (Not a Revere Catalog). It has a hand rubbed lacquer finish with a silvered finish dial and raised numerals. It plays full quarter hour chimes on 6 rods with a harmonious chord hour strike.
9" H X 20 1/2" W X 6" D


---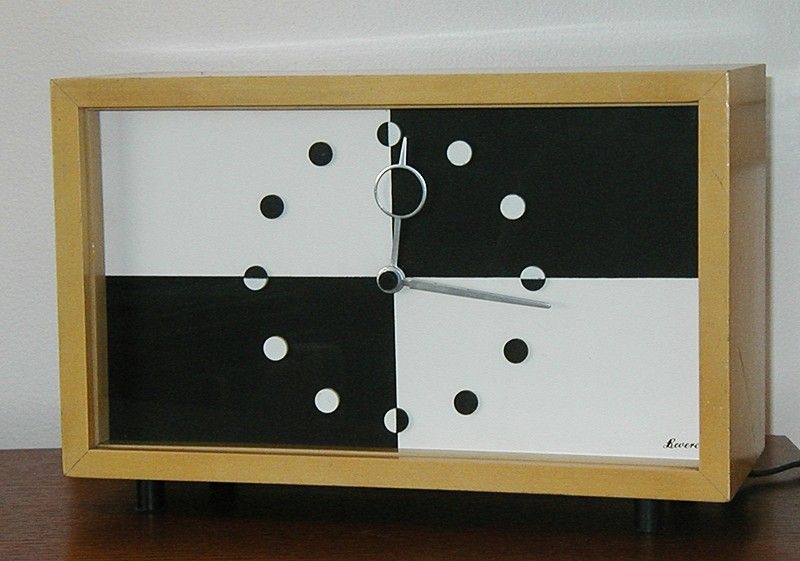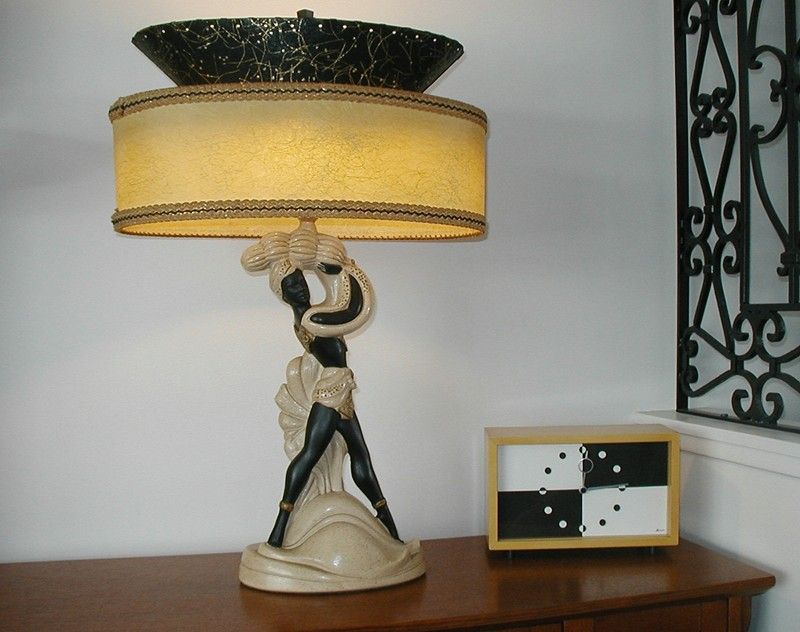 Make: Revere
Model: Unknown 33
Date: 1953

Case: Blonde Mahogany
Dial: Signed Black & White painted dial with applied dots.
Details: A modern design for the 1950s. This clock features a blonde wood case with a painted dial divided into quarters with the name "Revere" signed on the dial. It has silvered hands and full Westminster chimes. Two sets of instructions and Revere logo on the back. Truley one of the most unique Revere clocks we have seen and very rare.
7 3/4" H X 11 /4" W X 5" D


---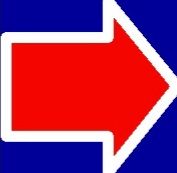 RETURN TO FIRST PAGE