The Internets Largest and Most Detailed Catalog of Both Revere and General Electric (GE) Westminster Clocks from 1928 forward!

Completely Updated! -More Clocks! -New Easier Format!


Unknown Revere Models
The following pictures are from actual Revere clocks that we have serviced or sold, plus additional pictures provided by viewers and from Tom's vast collection.
We have listed the clocks in a random order since no model numbers are known yet. Please note that we are continually working on these galleries with new clocks being added as we receive new information and pictures. If your clock is not pictured here it does not mean it doesn't exist! We probably haven't gotten it listed yet, or are unaware of it and do not have any pictures or documentation.
If your clock IS listed here, and you know the model or other information, please let us know.
We are not listing any of the GE nor Telechron '6 Series' Strike only clocks at this time.
Click on any picture to enlarge
***** REVERE CLOCKS GE CLOCKS UNKNOWN MODELS *****
***** QUICK-LOOK AT ALL CLOCKS *****
Page 1

Unknown-Page 1 Unknown-Page 2



---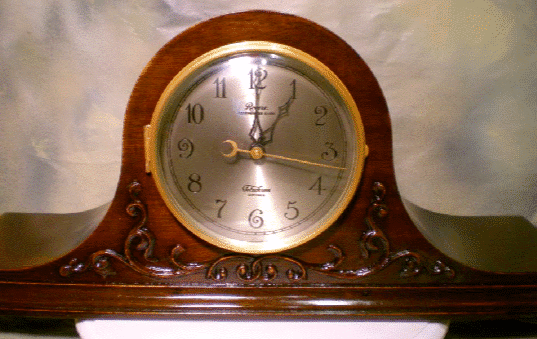 Make:Revere
Model: Unknown 1
Date: 1928

Case: Mahogany with elaborate scroll design overlay.
Dial: Silvered with etched black numerals.
Details: This beautiful clock is actually stamped with '6006' or '9009'. Those numbers don't seem to correspond to either a Revere or Herschede model. Very elaborte scroll design on the front makes it easy to identify. The hand carving indicates Herschede but a Revere dial says otherwise. Most likely a shared case.
8 3/4" H X 21" W X 6" D
---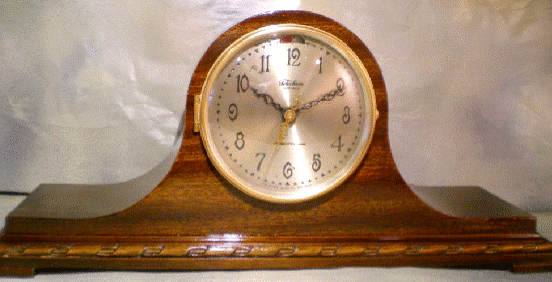 Make: Revere
Model: Unknown 2
Date: 1934

Case: Mahogany with carved relief along the base.
Dial: Silvered with etched black numerals.
Details: The destinctive base on this sets it apart from other tambours of the era. Horizontal grained Mahogany on the front.
8" H X 18" W X 6" D


---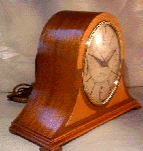 Make: Revere
Model: Unknown 5
Date: 1936

Case: Mahogany with Maple overlays.
Dial: Cream painted dial with black numerals.
Details: Mahogany with Maple overlays.
Dial: Cream painted dial with black numerals.
Details: Small for a Westminster design. This is another Revere shared design with the GE 356. Although they used the same basic case, the overlay designs and dials were different. Neither version is seen very often
8" H X 11" W
See the GE version


---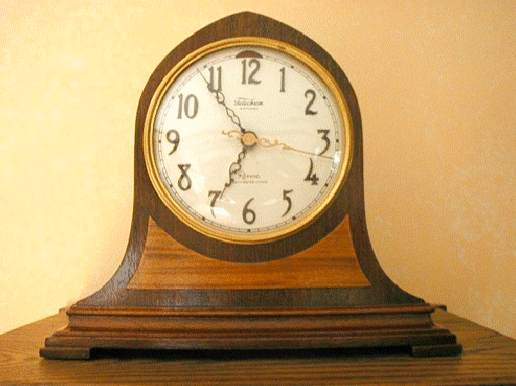 Make: Revere
Model: Unknown 6
Date: 1938

Case: Mahogany with Maple overlays.
Dial: Cream painted dial with black numerals.
Details: A Gothic style case with flared sides. Nice base detail and Maple overlays.Sold new for: $25.70
8 1/4" H X 10 1/8" W



---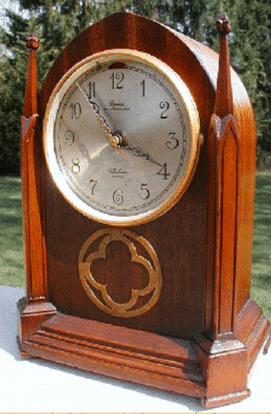 Make: Revere
Model: Unknown 8
Date: 1935

Case: Mahogany with decorative Burl overlay and carved spires in front.
Dial: Silvered with painted black numerals.
Details: Just a beautiful clock that shares the same spires with the R-130 and R-430 which use contrasting inlay along their sides. It has a decorative overlay on the front and plenty of base detail. It is unusual in the fact that it uses short horizontal chime rods and not the longer diagonally set ones usually used on this style clock. This would give it a higher pitch than the deep toned long rods.
9 1/2" H X 12 1/" W X 6" D
---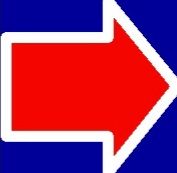 CONTINUE TO NEXT PAGE