Revere Chiming Clocks
The following pictures are from Revere Catalogs and/or actual Revere clocks that we have serviced or sold, plus additional pictures provided by viewers and from Tom's vast collection.
We have listed the clocks in numerical order by Model Number. Please note that we are continually working on these galleries with new clocks being added as we receive new information and pictures. If your clock is not pictured here it does not mean it doesn't exist! We probably haven't gotten it listed yet, or are unaware of it and do not have any pictures or documentation.
Click on any picture to enlarge
Page 9

Revere ID Home Revere-Page 1 Revere-Page 2 Revere-Page 3 Revere-Page 4 Revere-Page 5 Revere-Page 6 Revere-Page 7 Revere-Page 8
Revere-Page 9 Revere-Page 10 Revere-Page 11 Revere-Page 12 Revere-Page 13 Revere-Page 14 Revere-Page 15



---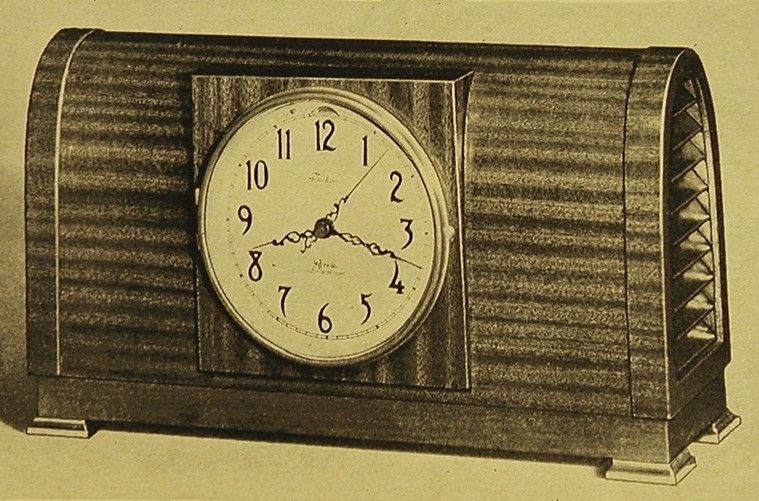 Make: Revere
Model Number: R-650
Date: 1940

Case: Mahogany
Dial: Silvered with raised numerals.
Details: A departure from conventional design with horizonatl lines and louvered sound boards on each end (Note that the R-460 used louvered sound boards on the front). Certainly not a model we have seen in person only in this catalog from 1940. List Price: $52.20 - Retail: $45.00
8 1/2" H X 15 1/4" W X 4 1/4" D

---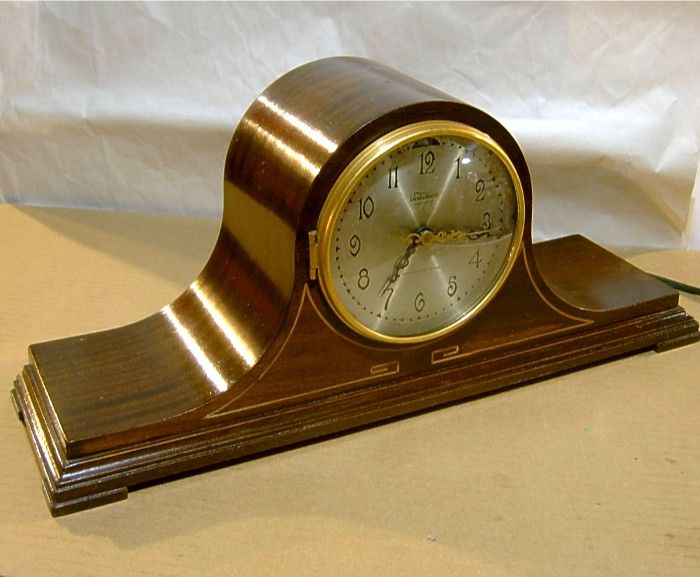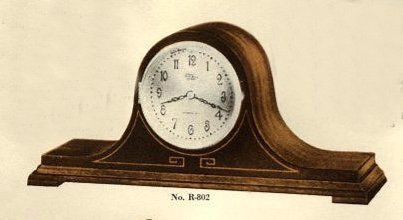 Make: Revere
Model Number: R-802
Date: 1930s
Name: Colonial style

Case: Honduras Mahogany with gold line design.
Dial: Silvered with etched black numerals.
Details: Standard tambour design with an interesting contrasting line design painted or screened on the front.Hinged bezel. Original price: $39. Was also availabe with a Time and Strike only movement (R-902) for $30.
7 7/8" H X 18 1/2" W X 5 1/8" D


---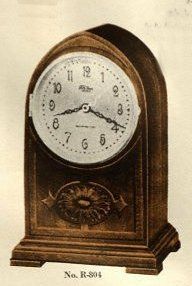 Make: Revere
Model Number: R-804
Date: 1930s
Name: Gothic style

Case: Honduras Mahogany with Lacewood overlay.
Dial: Silvered with etched black numerals.
Details: A Gothic style design with a Cathedral peak top. Mahogany with Lacewood overlay and applied front decoration.Westminster chimes. Cost:$40. Also available as a Hour and Half-Hour strike as the R-904 - Cost:$31.
1 3/4" H X 7 1/2" W X 6" D


---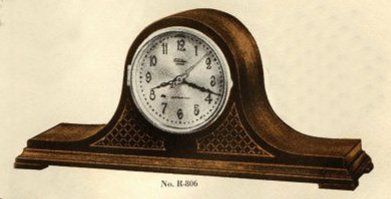 Make: Revere
Model Number: R-806
Date: 1931
Name: Colonial style

Case: Honduras Mahogany.
Dial: Silvered with etched black numerals.
Details: Standrd tambour design with contrasting hand painting on the front. Original price: $43. Was also availabe with a Time and Strike only movement (R-906) for $34.
7 7/8" H X 18 1/2" W X 5 1/8" D


---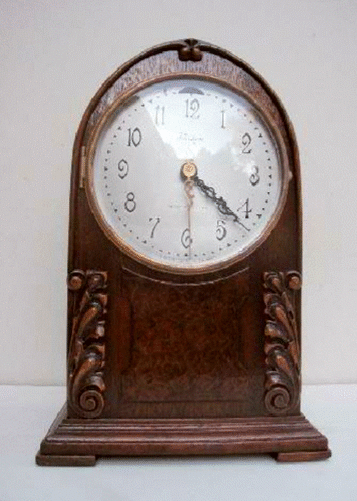 Make: Revere
Model Number: R-808
Date: 1941

Case: Mahogany with Burl overlays.
Dial: Silvered raised black numerals.
Details: Even Revere thought this was a great clock. This is how they described it in advertising " Sweeping curves make this smart mahogany case a decorative accessory for any interior. Its conventional dignity has the warth and companionship of an old friend. A happy combination of eye appeal--comfort appeal--plus price appeal".
8" H X 18 1/2" W X 5 1/4" D

---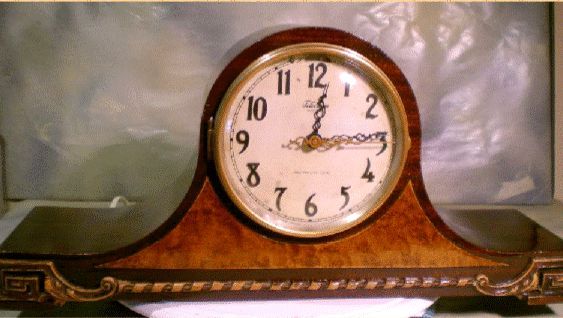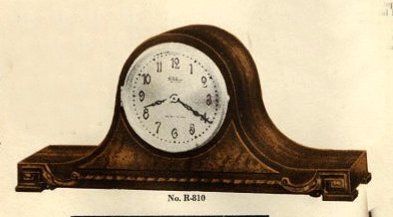 Make: Revere
Model Number: R-810
Date: 1930
Name: Colonial style

Case: Honduras Mahogany with Burl overlay and base carving.
Dial: Silvered with etched black numerals.
Details: A more elaborate tambour with and overlay panel on the front, rope design detail carving along the base, and intricate carving at the ends. We had a customer send in a photo of his R-810 and it matches the catalog photo to a tee.Original price: $47. Time and Strike version (R-910) $38.
7 7/8" H X 17 1/4" W X 5" D

---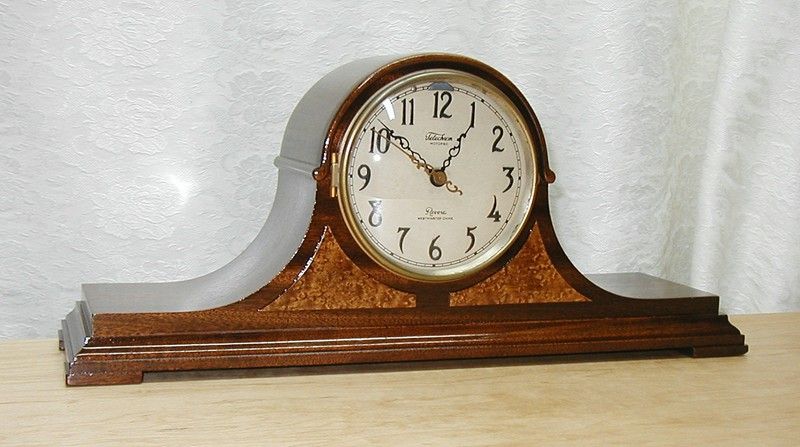 Make: Revere
Model Number: R-824
Date: 1941

Case: Mahogany with Burl overlays.
Dial: Silvered raised black numerals.
Details: Even Revere thought this was a great clock. This is how they described it in advertising " Sweeping curves make this smart mahogany case a decorative accessory for any interior. Its conventional dignity has the warmth and companionship of an old friend. A happy combination of eye appeal--comfort appeal--plus price appeal". We finally got our hands on one from a customer close by in FL and restored it - and it is a beautiful clock.
8" H X 18 1/2" W X 5 1/4" D

---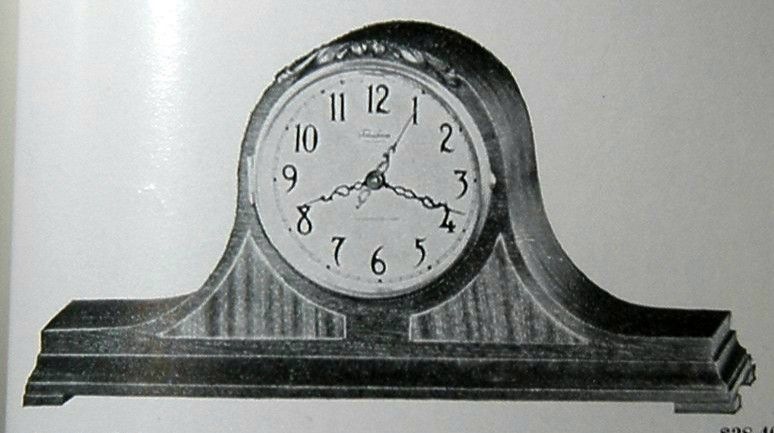 Make: Revere
Model Number: R-826
Date: 1940

Case: Mahogany with overlays.
Dial: Silvered raised black numerals.
Details: A simple medium sized tambour design with contrasting striped overlays in front and some carved decoration over top. This picture is from a 1940 catalog and not much was said about it. One of our viewers sent us the picture on the right. Price: $38.40
8" H X 18 1/2" W X 5 1/4" D

---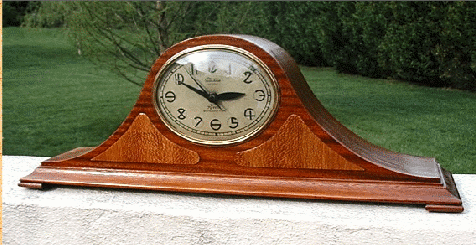 Make: Revere
Model: R-828
Date: 1935

Case: Mahogany with figured Sycamore overlays.
Dial: Oval Cream with black numerals.
Details: This appears to be a Revere design also sold as the GE 362. With a low height and wide body, this clock looks slim and dynamic. Again, the Revere versions would be harder to find and this one we finally found in a 1940 catalog.
8" H X 22" W
See the GE version
---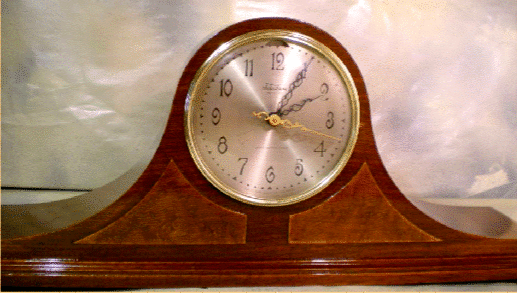 Make: Revere
Model Number: R-901
Date: 1930

Case: Honduras Mahogany with Burl overlay.
Dial: Silvered dial with etched black numerals.
Details: This clock appeared in 1930 but wasn't in the catalog. It is a variation of the R-109 possibly using a different overlay. A standard tambour style with the raised front panels.
11 1/2" H X 21" W X 6" D
---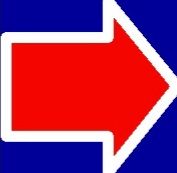 CONTINUE TO NEXT PAGE