Revere Chiming Clocks
The following pictures are from Revere Catalogs and/or actual Revere clocks that we have serviced or sold, plus additional pictures provided by viewers and from Tom's vast collection.
We have listed the clocks in numerical order by Model Number. Please note that we are continually working on these galleries with new clocks being added as we receive new information and pictures. If your clock is not pictured here it does not mean it doesn't exist! We probably haven't gotten it listed yet, or are unaware of it and do not have any pictures or documentation.
Click on any picture to enlarge
Page 5

Revere ID Home Revere-Page 1 Revere-Page 2 Revere-Page 3 Revere-Page 4 Revere-Page 5 Revere-Page 6 Revere-Page 7 Revere-Page 8
Revere-Page 9 Revere-Page 10 Revere-Page 11 Revere-Page 12 Revere-Page 13 Revere-Page 14 Revere-Page 15



---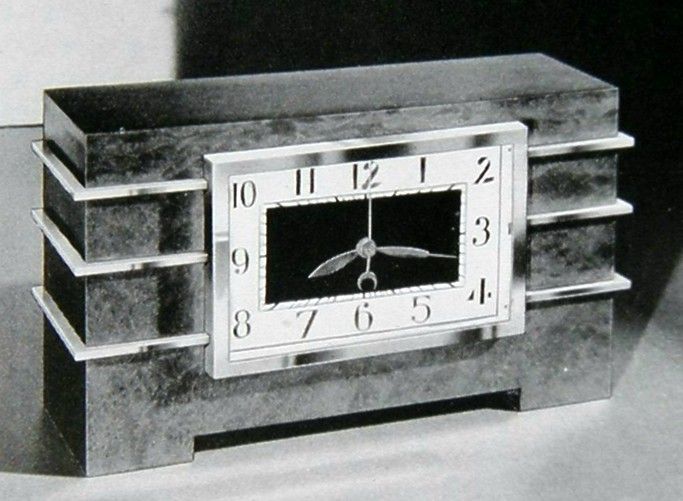 Make:Revere
Model: R-450
Date: 1937
Name: Moderne

Case: Mahogany Burl with Brass accent trim.
Dial: Rectanglular, white dial with painted numerals, black center, large flat brass bezel.
Details: Another unusual design for Revere but of the highest quality throughout. We only have this catalog picture from 1937 with little details. We can see the "Moderne" design with the horizontal brass accent trim pieces, the square dial and large flat bezel. The cataloge only says " No. R-450 - Moderne Burl Case.......$81.00". Certainly an interesting clock.


---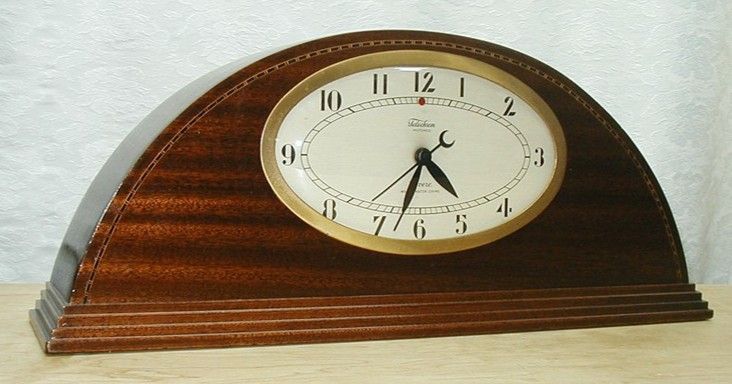 Make:Revere
Model: R-454
Date: 1937

Case: Mahogany with ebony inlay.
Dial:White painted dial with black numerals and a large flat brass bezel.
Details: A large mahogany case in a modern tambour design with ebony inlay detail and stepped base accent. It features a painted white dial with black numerals and timering, a wide flat brass bezel, and oval convex glass. We have only seen a few of these models so far.
19" W X 7 3/4" H X 4 1/2" D


---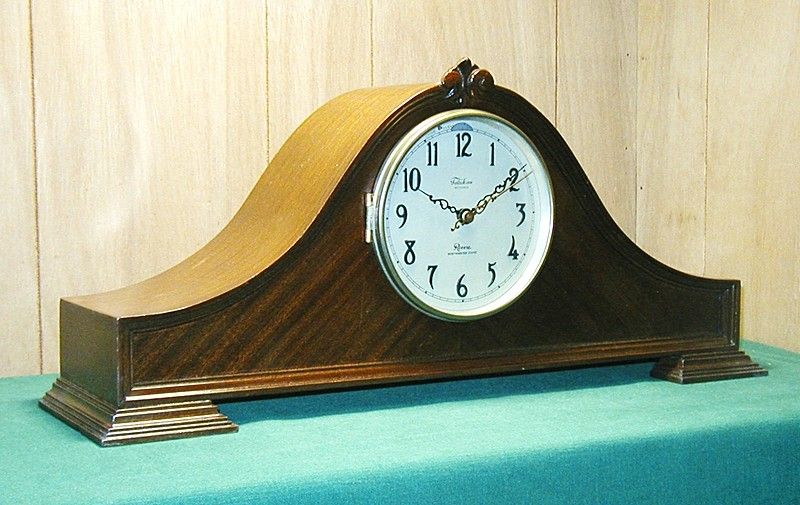 Make:Revere
Model: R-456
Date: 1937

Case: Carved Mahogany .
Dial:Cream dial with raised numerals
Details: A large mahogany case in a modern tambour design with carved upper decoration and raised feet. It features a painted cream dial with black numerals. We have only seen this one so far and is considered rare.
21 1/4" W X 9 3/4" H X 5 3/4" D


---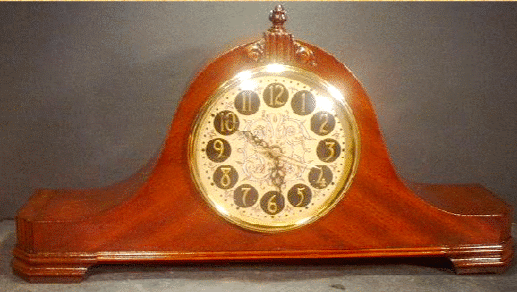 Make: Revere
Model Number: R-458
Date: 1947

Case: Mahogany veneer with carved finial.
Dial: 5" decorative gold dial with raised brass numerals.
Details: There isn't much on this clock and this is the only one we've documented back in 2006. Interesting to note that it does seem to be a scaled back version of the R-442.
9" H X 19" W X 6" D
---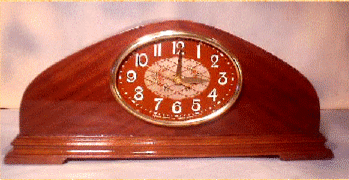 Make: Revere
Model Number: R-459
Date: 1947 (as pictured)

Case: Diagonal Grained Mahogany with solid Mahogany base.
Dial: Red time ring with center pattern and painted black numerals, brass hands.
Details:We first saw this clock in 2006, but have seen two since then. Slightly more modern tambour design in a simple case. This same case was used for the R-951 but with a different dial.

---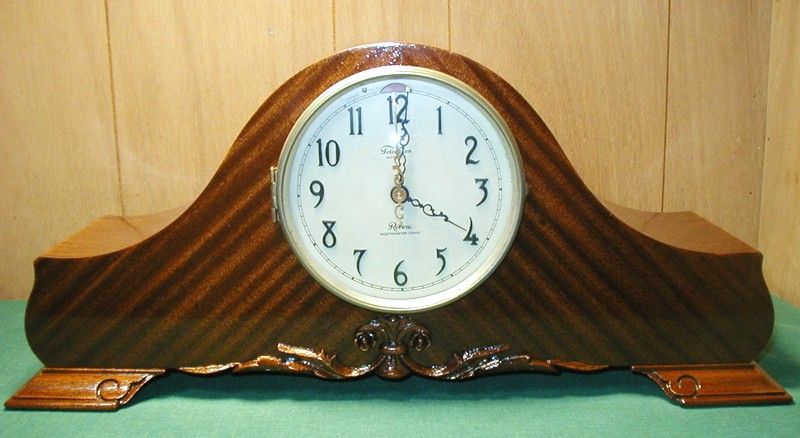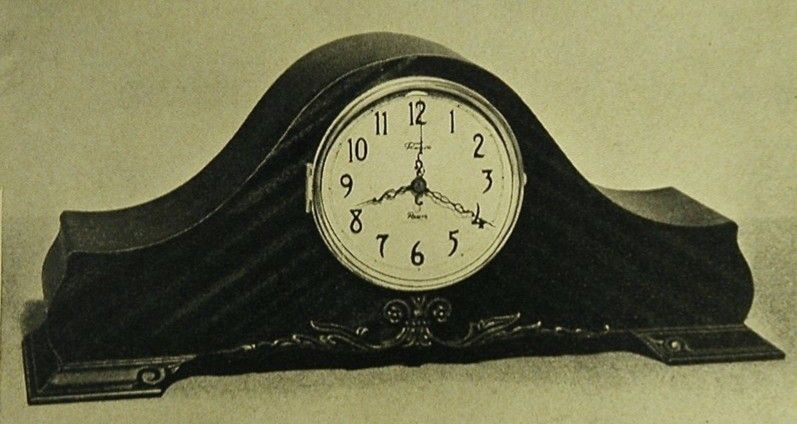 Make: Revere
Model Number: R-460
Date: 1936

Case: Matched Mahogany with hand carved ornament.
Dial: Silvered with raised numerals.
Details: You can see the Herschede influence in this hefty case with its hand carving ornamentation to the Mahogany case. A nice modern touch tambour style. Beautifully restored model on the left. List Price: $52.20 - Retail: $45.00
9" H X 20 1/2" W X 6" D
---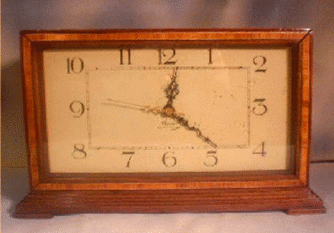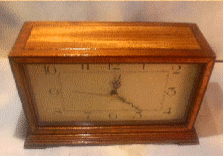 Make: Revere
Model Number: R-467
Date: 1936
Name: Madison

Case: Mahogany with Bird's Eye Maple trim all around.
Dial: Since this clock was actually stamped, and had a name, it must have been a promotional clock. We cataloged this clock in 2007 and have only seen one other since then. It is truly a spectacular clock which is much more impressive in person.Because of the limited production in 1936, we can only assume that production of the Madison was also low, and existing units are hard-to-find to rare.

---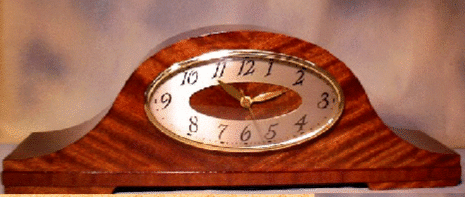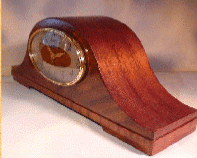 Make: Revere
Model Number: R-485
Date: 1948

Case: Diagonal Matched Mahogany with Solid Mahogany base.
Dial: Open Silvered dial with etched black numerals and Brass hands.
Details: We like to think of this as the 'Big Brother' to the famous R-913 as you'll see most of the components are identical to the R-913. However, this was a slightly larger clock with a large oversized dial. The sound characteristics are excellent. We've seen this clock for sale on the Internet, but most were in distressed condition. The glass is also larger than the standard oval glass and is hard to find or has to be custom made.

---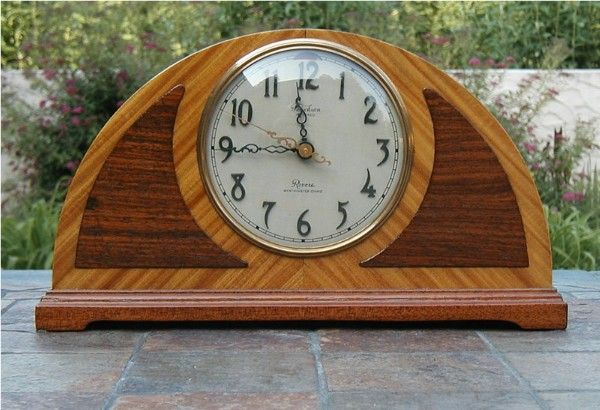 Make: Revere
Model: R-530
Date: 1940

Case: Honduras Mahogany with satinwood front and Rosewood panels.
Dial: 5" Silvered with raised brass numerals.
Details: The 1937 GE 350 uses the same dial and case but with a different overlay pattern. This is most likely a shared case between Revere and GE. We've seen a few of the GE versions but only this one R-530.List: $35.70. Retail: $29.75
7 1/2" H X 13" W X 4" D
See the GE version



---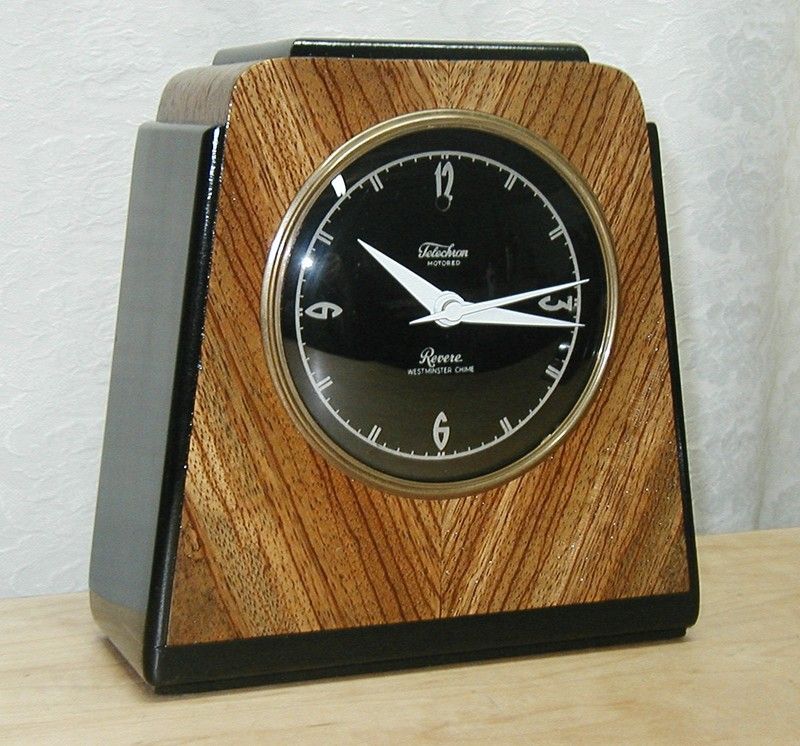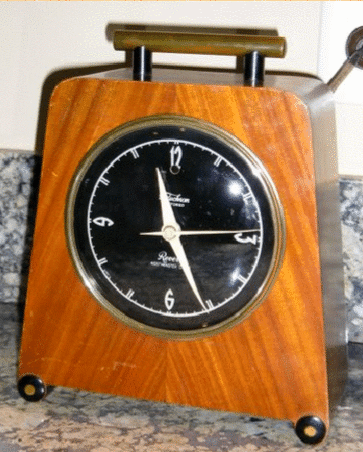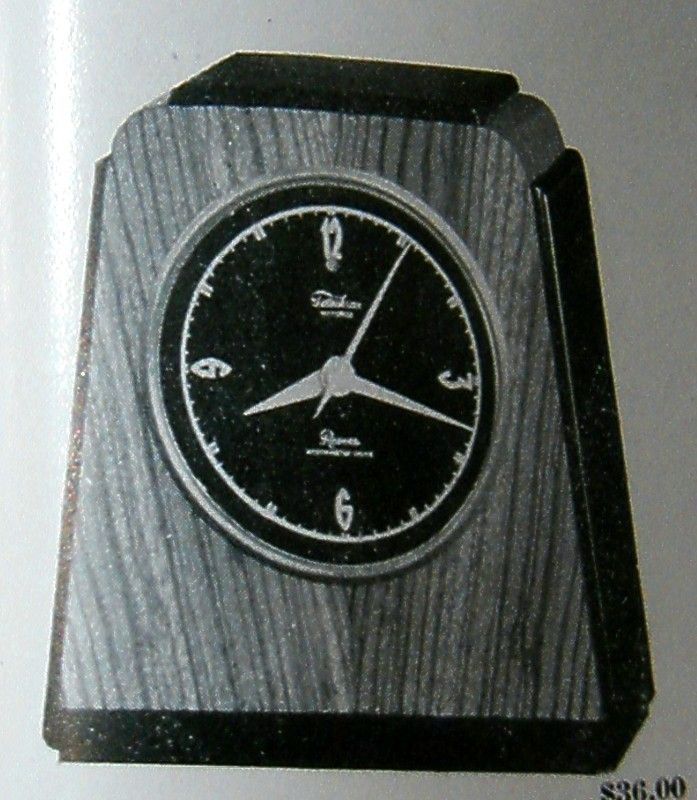 Make: Revere
Model: R-534
Date: 1935

Case: Mahogany with diagonally book matched Zebrawood front.
Dial: Black with white painted numerals.
Details: Details on the clock on the right come from Shelly and Gary in Ohio. Notice the black feet and the black trim on the handle. But notice in the 1937 catalogue photo the handle and feet are missing and there is black trim on the sides and at the bottom and on top. This is a Revere version (also shown at left) and we have learned that their clock is a variation of this model and was also produced under the Herschede name. The white hands over the black background give this clock a very distinctive appeal. Sold for $36.00
8 3/4" H x 8 1/2" W X 3 3/4" D
---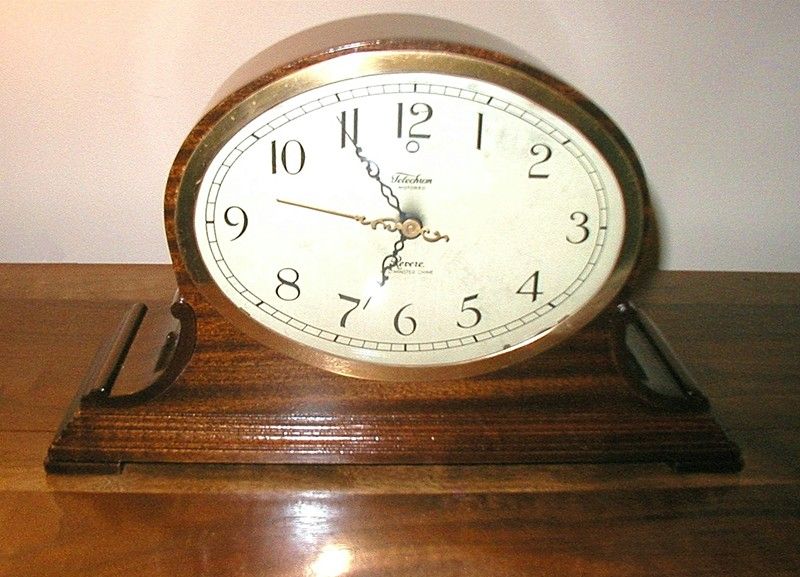 Make: Revere
Model: R-536
Date: 1940

Case: Honduras Mahogany with horizontal tones.
Dial: White dial with black numerals.
Details: A modified and shortened tambour style. Oval dial and flat, wide brass bezel with side carving details. List: $44. Retail: $33
7 7/8" H X 14" W X 4 1/4" D




---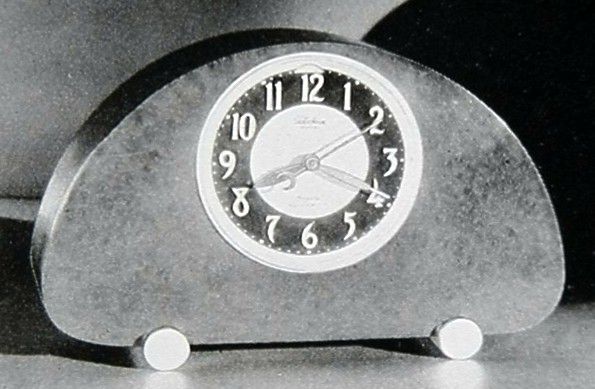 Make: Revere
Model: R-542
Date: 1937
Name: Moderne
Case: Mahogany with Burl front.
Dial: Black time ring with raised numerals.
Details: A small modified tambour with a burl front and brass feet. We only have this catalog picture and not was said about it. A very simple design with a plain dial.List: $48.
8" H X 12" W X 4 1/2" D




---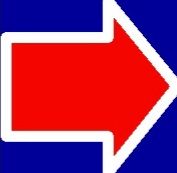 CONTINUE TO NEXT PAGE