Revere Chiming Clocks
The following pictures are from Revere Catalogs and/or actual Revere clocks that we have serviced or sold, plus additional pictures provided by viewers and from Tom's vast collection.
We have listed the clocks in numerical order by Model Number. Please note that we are continually working on these galleries with new clocks being added as we receive new information and pictures. If your clock is not pictured here it does not mean it doesn't exist! We probably haven't gotten it listed yet, or are unaware of it and do not have any pictures or documentation.
Click on any picture to enlarge
Page 3

Revere ID Home Revere-Page 1 Revere-Page 2 Revere-Page 3 Revere-Page 4 Revere-Page 5 Revere-Page 6 Revere-Page 7 Revere-Page 8
Revere-Page 9 Revere-Page 10 Revere-Page 11 Revere-Page 12 Revere-Page 13 Revere-Page 14 Revere-Page 15



---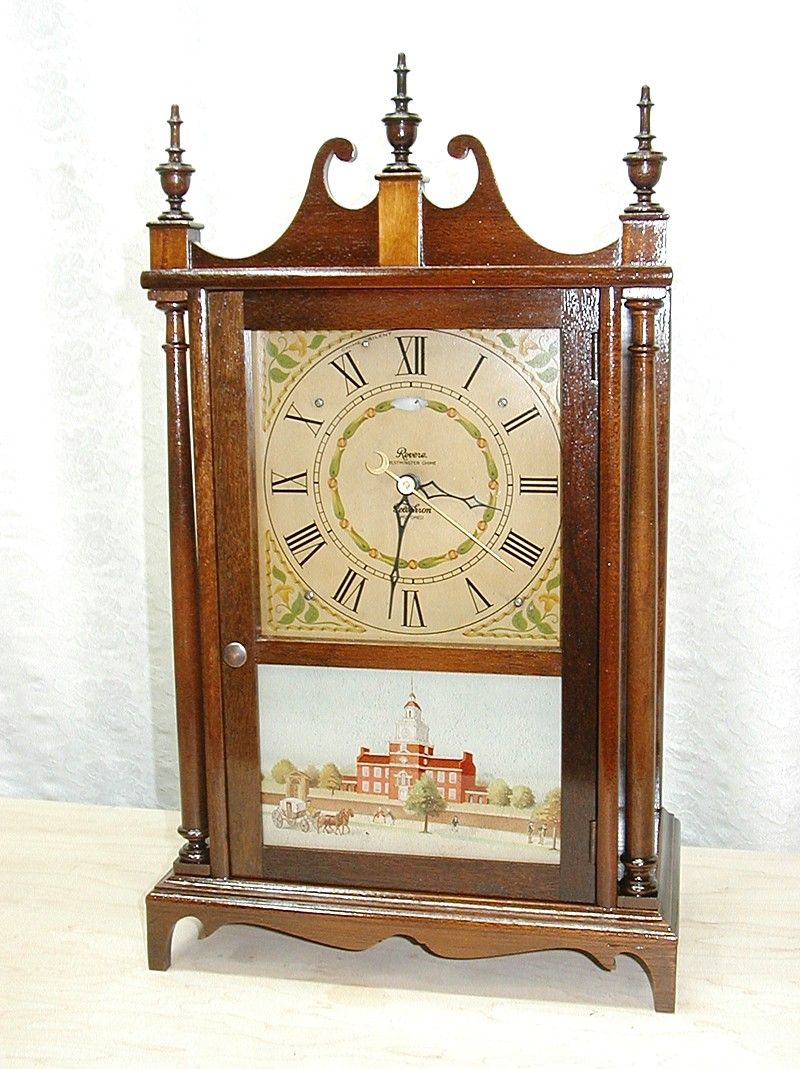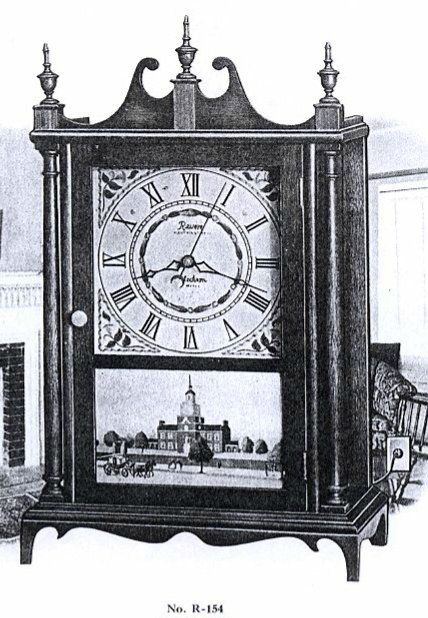 Make: Revere
Model Number: R-154
Date: 1930 (as shown)
Name: Early American

Case: Honduras Mahogany with lacquer finish
Dial: Painted, with reverse painted lower tablet of Independence Hall
Details: Christopher B. up in Indiana sent us our first view of a rare R-154. Revere described this as an Early American, but technically, it's a Pillar and Scroll design which was very poplular in the early 19th century. Unfortunately, it didn't seem to work for Revere in the 20th century. Either very few were made, or very few were sold. This was the only such design made by Revere, and you won't find it on eBay every week. It sold new for $85. The picture on the left was just updated and it's one we just restored for Sharon in Texas. The R-154 was only made with Westminster chimes.
17 1/2" H X 11 1/2" W X 6" D
---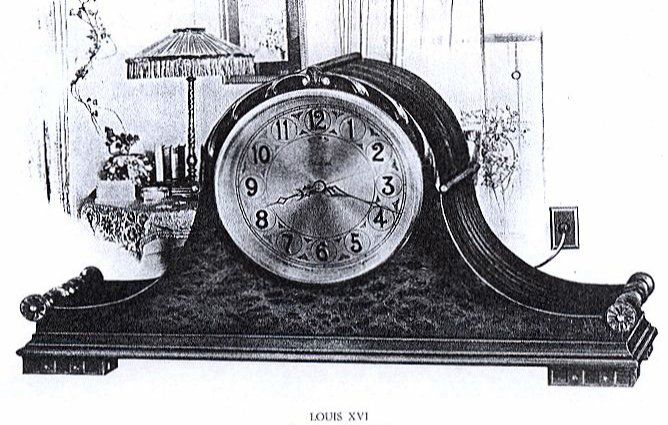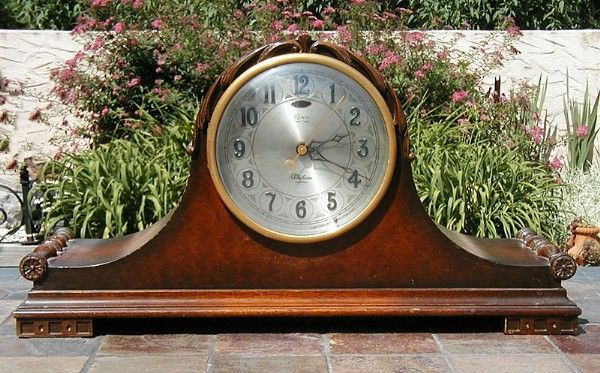 Make: Revere (Dual Chime)
Model Number: R-159
Date: 1930
Name: Louis XVI

Case: Honduras Mahogany, Redwood Burl front, Maple carvings and turnings.
Dial: Silvered with raised black numerals.
Details: Played both thr Westminster and Canterbury chimes. Has an elaborate burl front design and intricate carvings and turning made of Maple. Original price: $110
11 1/2" H X 22 1/2" W X 6 3/4" D
---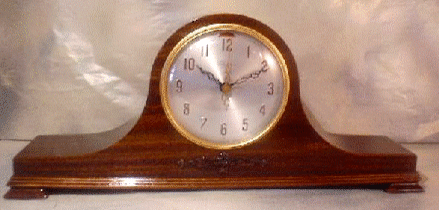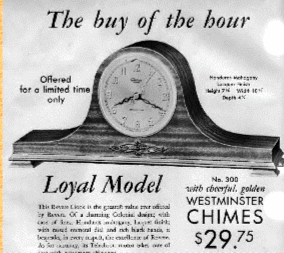 Make: Revere
Model Number: R-300
Date: 1931
Name: Loyal

Case: Horizontal Mahogany with applied decoration on front.
Dial: Silvered with raised gold numerals.
Details: This promotional model clock was a breakthrough in pricing, but not in quality. It retained Revere's high standards. A countless number of these were sold, as we've had many come through the shop. A beautiful clock and a favorite among collectors. Sale price : $29.75,
8" H X 18"W X 4" D
---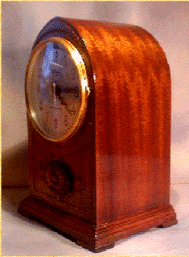 Make: Revere
Model Number: R-304
Date: 1930

Case: Mahogany with elaborate burl overlays and large Maple applique.
Dial: Silvered etched black numerals.
Details: Revere made style similar, but non as elaborate as this one. This is the only example we've seen and that was back in 2006.




---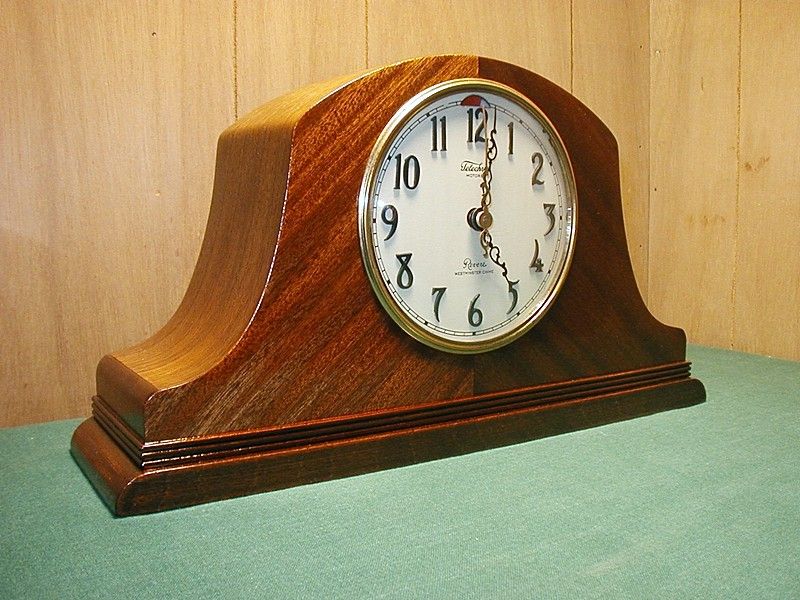 Make: Revere
Model Number: R-352
Date: 1936

Case: Striped Mahogany with solid Mahogany base .
Dial: Silvered with black numerals.
Details: A semi-upright tambour style with a narrow base making it appear taller. Full Westminster chimes. It appears to be an exact duplicate of the GE 352 Concerto. We got this one in for service work and found a "352" stamped on the bottom and it had a Revere branded dial. As many of the models, Revere and GE shared the same cases and here is an example of the same clock with two different dials (see the GE 352 page). This one came from our friend Paul in FL.
8" H x 14 1/4" W X 4" D.


---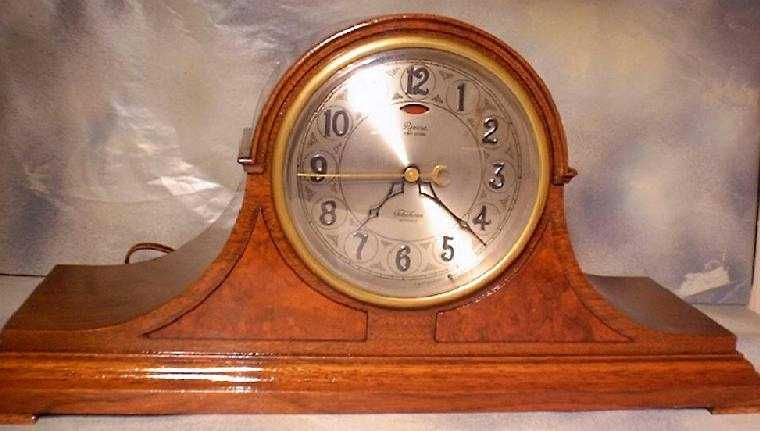 Make: Revere
Model Number: R-405
Date: 1930
Name: Georgian

Case: Mahogany with Burl overlay.
Dial: Silvered with raised black numerals and etched pattern on dial.
Details: This clock came in to us for repair and is the only one we've seen. A tambour design with raised overlays on front and added upper molding. Unusual dial with black etched pattern around the numbers.
8 1/2" H X 21 1/2" W X 6 1/2" D
---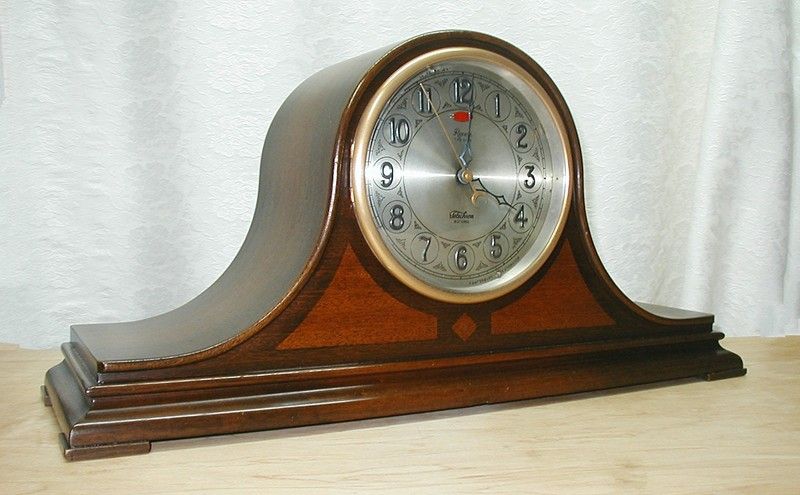 Make: Revere (Dual Chime)
Model Number: R-406
Date: 1930
Name: Sheraton Colonial

Case: Mahogany with Burl design.
Dial: Silvered with raised black numerals and etched pattern.
Details: This is one of the larger Dual Chime model tambors. It plays both the Westminster and the Canterbury Chimes - you could choose which one to play. Simple design with printed front decoration and intricate dial. Hard to find and worth more than most simgle chime models. Eric from Ohio had his in for service work recently so we finally got a picture of one. Original price: $91
10 3/4" H X 24 1/2" W X 7 1/2" D
---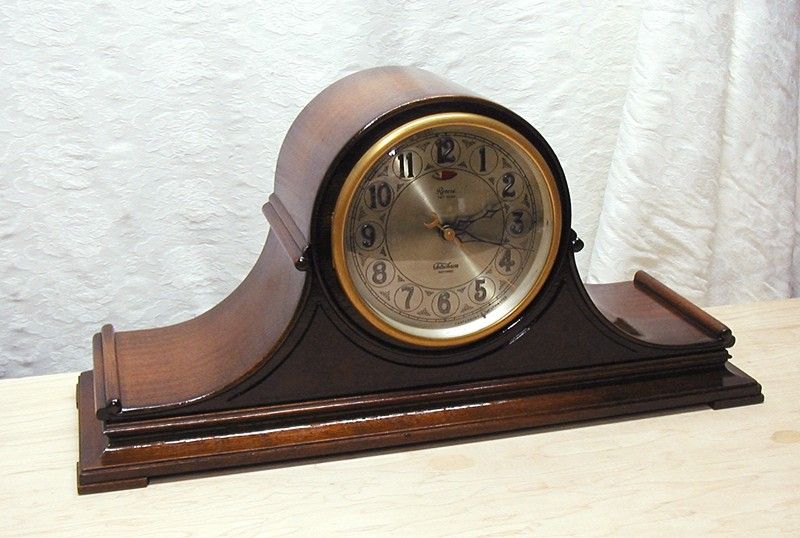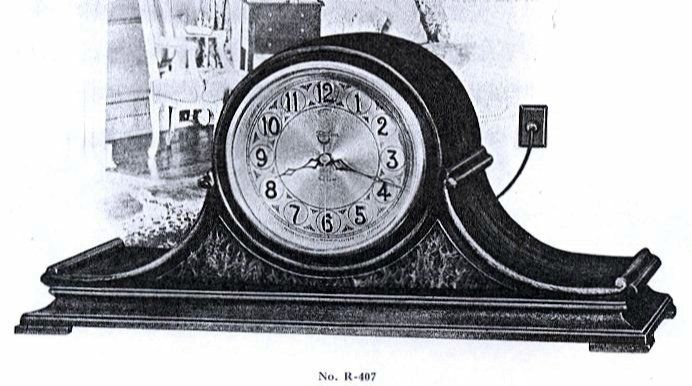 Make: Revere (Dual Chime)
Model Number: R-407
Date: 1928 (as pictured)
Name: Queen Anne

Case: Mahogany with large burl overlay
Dial: 7" Silvered dial with raised black numerals.
Details:This is one of the monster-sized 22" wide by 10" high by 7 1/2" clocks. This clock ran the early 60 rpm rotor, and was dual chime, playing either the Westminster or Canterbury tunes. This is one of the earliest models made by Revere and is considered rare. Sold for $105.
10" H X 22" W X 7 1/2" D
---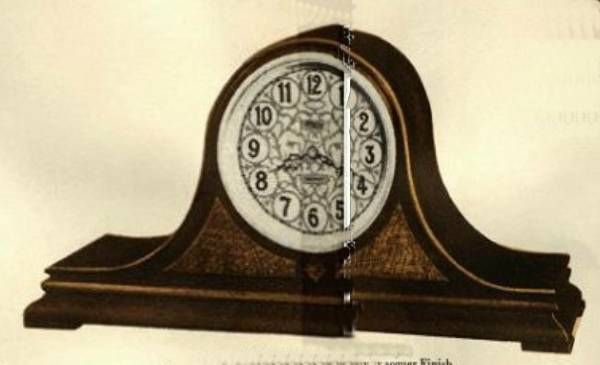 Make: Revere (Dual Chime)
Model Number: R-409
Date: 1931 (as pictured)
Name: Sheriton Colonial

Case: Mahogany with large burl overlay
Dial: Silvered Scroll dial with raised black numerals.
Details:This is one of the large sized dual chime clocks, playing either the Westminster or Canterbury tunes. Tambour design with Burl front panel overlays. Sold for $75.
10 1/2" H X 21 3/4" W X 7" D
---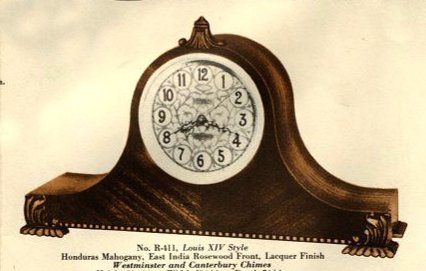 Make: Revere (Dual Chime)
Model Number: R-411
Date: 1930
Name: Louis XIV

Case: Honduras Mahogany with India Rosewood front.
Dial: Silvered Scroll dial with raised black numerals.
Details:This is another one of the monster-sized 20" wide by 11" high by 7 1/2" clocks. Mahogany case with Rosewood front, top decoration, decorative feet and was dual chime, playing either the Westminster or Canterbury tunes. Sold for $80.
11 3/4" H X 20 3/4" W X 7 1/2" D
---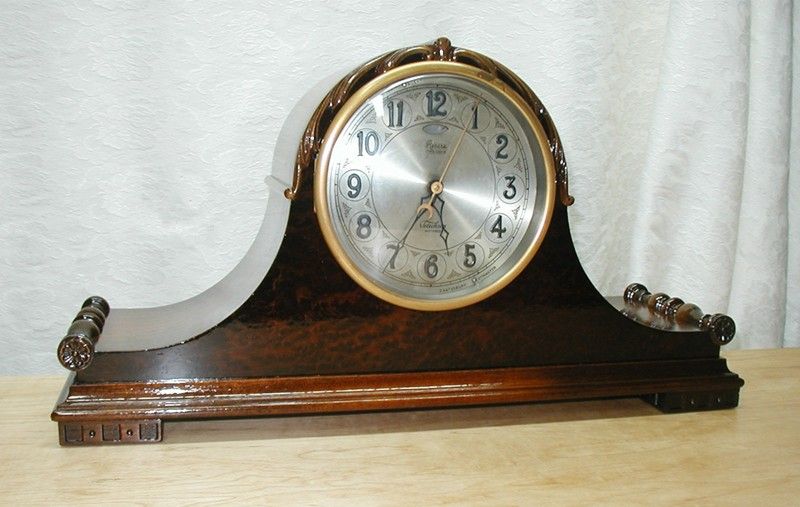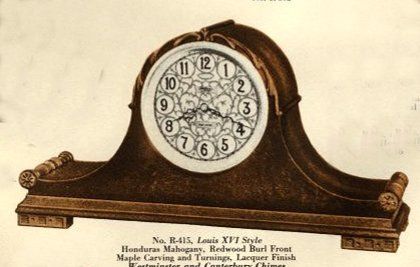 Make: Revere (Dual Chime)
Model Number: R-415
Date: 1930
Name: Louis XVI

Case: Honduras Mahogany with Rosewood Burl front.
Dial: Silvered Scroll dial with raised black numerals.
Details:Again a dual chime, large sized Tambour clock. Case featured Honduras Mahogany with Rosewood Burl front, with Maple carvings and turnings. The clock on the left came all the way from Mark in Alaska for a restoration - what a beauty it is. Sold for $85.
11" H X 20 3/4" W X 6 1/2" D
---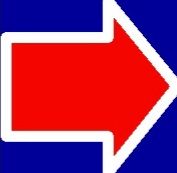 CONTINUE TO NEXT PAGE