Revere Chiming Clocks
The following pictures are from Revere Catalogs and/or actual Revere clocks that we have serviced or sold, plus additional pictures provided by viewers and from Tom's vast collection.
We have listed the clocks in numerical order by Model Number. Please note that we are continually working on these galleries with new clocks being added as we receive new information and pictures. If your clock is not pictured here it does not mean it doesn't exist! We probably haven't gotten it listed yet, or are unaware of it and do not have any pictures or documentation.
Click on any picture to enlarge
Page 2

Revere ID Home Revere-Page 1 Revere-Page 2 Revere-Page 3 Revere-Page 4 Revere-Page 5 Revere-Page 6 Revere-Page 7 Revere-Page 8
Revere-Page 9 Revere-Page 10 Revere-Page 11 Revere-Page 12 Revere-Page 13 Revere-Page 14 Revere-Page 15



---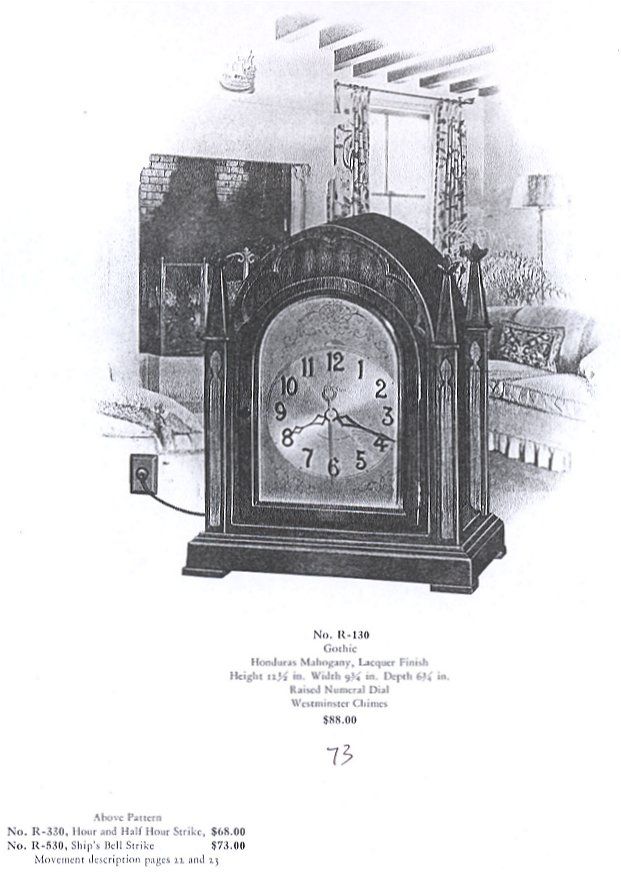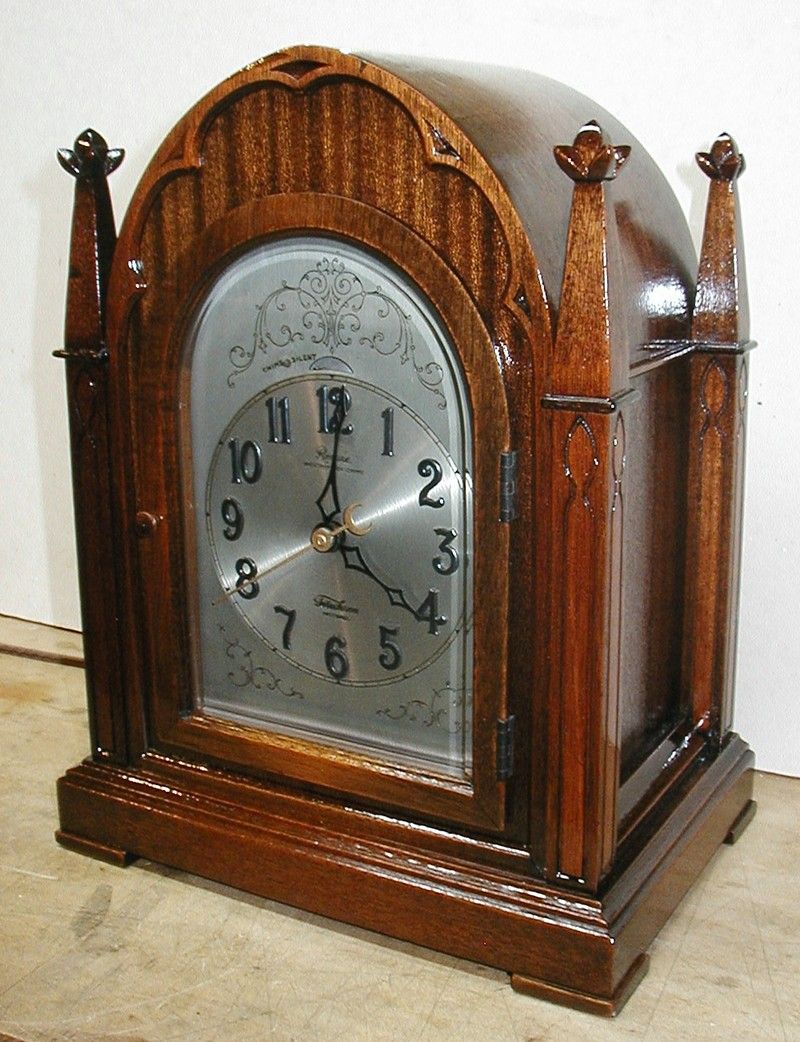 Make: Revere
Model Number: R-130
Date: 1929
Name: Gothic

Dial: Silvered with etched black numerals and intricate designs.
Details: This clock was the first generation of this design. Like most clocks from 1928 it used the noisy 60 rpm rotor which was changed to 1 rpm when the R-430 appeared.For obvious reasons this design is very popular with collectors, and these clocks generally bring a high premium in any condition. Restored examples, as shown on our website, are worth several hundred dollars.

Also compare the R-430 and GE versions of this model.
---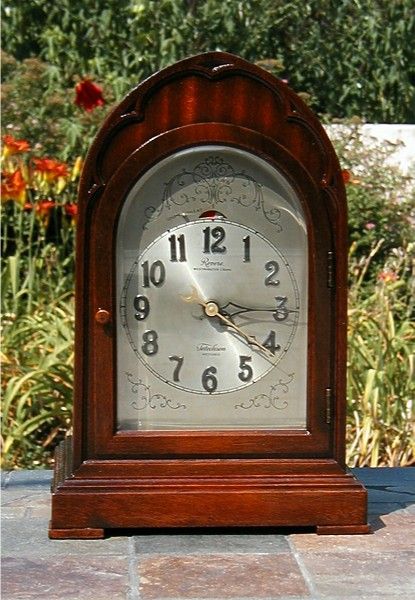 >/a>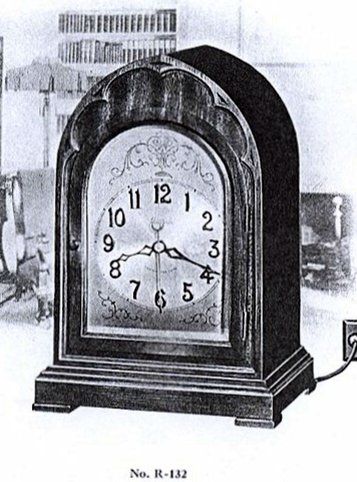 Make: Revere
Model Number: R-132
Date: 1930
Name: Gothic

Case: Honduras Mahogany
Dial: Silvered with raised black numerals and etched background design.
Details: An elaborate clock in the Gothic style.Has a hinged door and intricate carvings. Sold for $74. Available in a Time and Strike (R-332) and a Ship's Bell (R-532) version.
12 3/4" H X 8 1/2" W X 6 3/4 D
---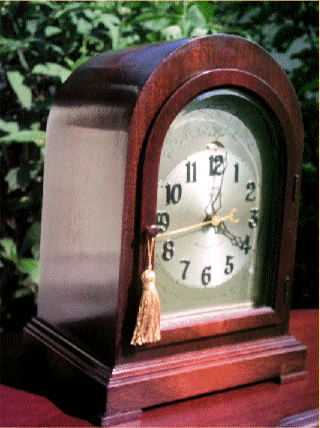 Make: Revere
Model Number: R-136
Date: 1930
Name: Colonial

Case: High grade Mahogany
Dial: Silvered with ornate etchings and raised black numerals.
Details: The Westminster version of this clock sold for $70. For the more budget minded, there was a Time and Strike only version offered for $50 and a Ship's Bell for $55. This is a remarkable looking clock with high collector interest and a high price for clocks shown in this condition.
12" H X 8 1/2" W X 6 1/4" D

---
Make: Revere
Model Number: R-138
Date: 1930 (as shown)

Case: Zebrawood front, lavendar Catalin feet, and ornaments.
Dial: Exposed hands with Satinwood numerals inlaid
Details: We haven't seen this clock yet and if one still exists, it would bring a hefty price in any condition. One of the more unusual Revere designs like the R-140 shown next.Sold for $110 with Wesrminster chimes.
13" H X 9 1/4" W X 5 3/4" D
---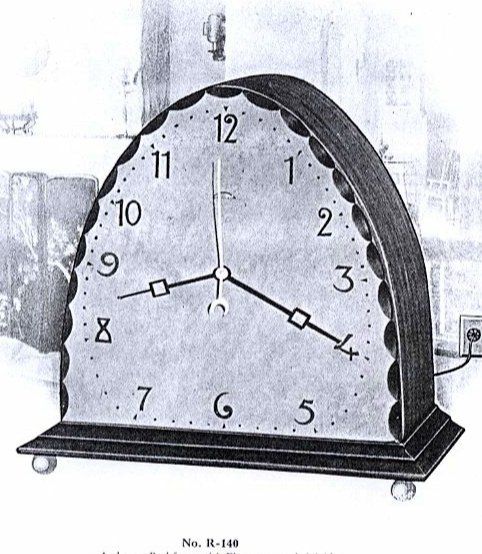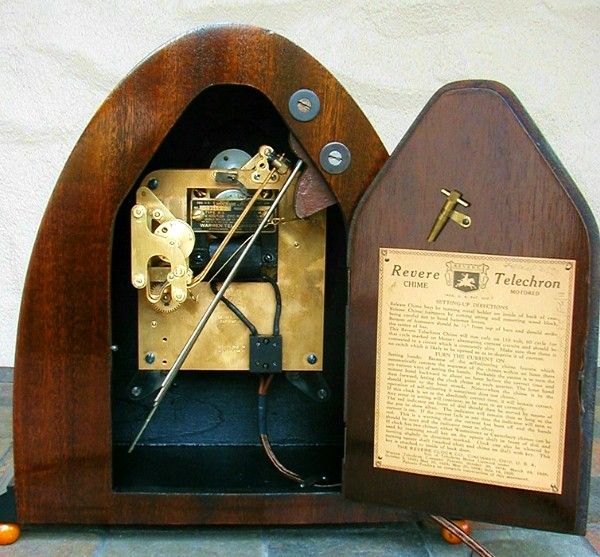 Make: Revere
Model Number: R-140
Date: 1930

Case: Mahogany with Amboyna Burl front. Catalin feet imitation ivory.
Dial: Open hands with Ebony numerals inlaid.
Details: This is one of the rare clocks Revere made and in a style unlike any other. The open front left most of these exposed to damage and only a few good examples exist today. The case was carved with scallops on the edge that were painted in black. Kim from Las Vegas had us bring hers back to life and it's a remarkable clock in excellent condition. We've never seen one on eBay and it would fetch a high price at any sale.
12 1/4" H X 12 1/2" W X 7" D
---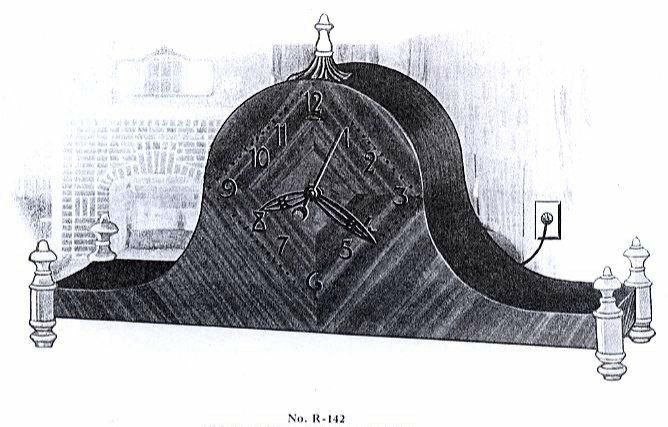 Make: Revere
Model Number: R-142
Date: 1930

Case: All Satinwood case with yellow Catalin feet and ornaments.
Dial: Exposed hands with numerals inlaid of Ebony
Details: Like the twp previously shown models, this Revere had an open exposed face using the wood as a dial. Again, a rare clock that we have not seen in person and will bring a high price at any sale.Original cost $120.
11 1/2" H X 20 1/4" W X 6 1/4" D
---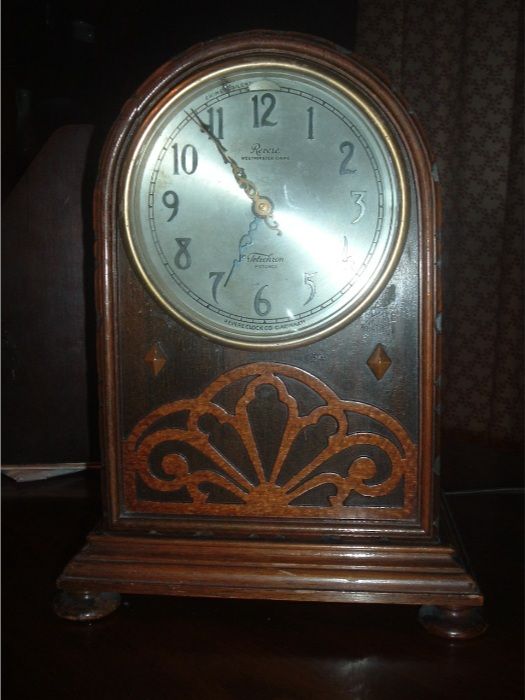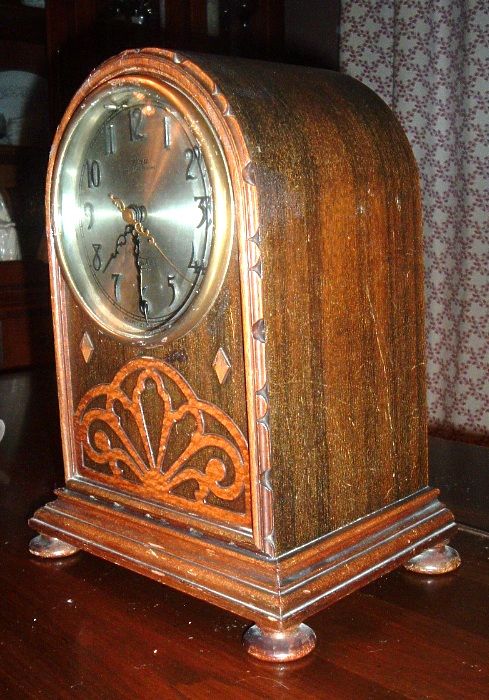 Make: Revere
Model Number: R-144
Date: 1930

Case: Mahogany with overlay.
Dial: Silvered with black numerals
Details: This is one of the Gothic style clocks with a different variation on the mahogany case. Front scroll-work overlay in contrasting wood and two carved diamond appliques. It also featured four round pedestal feet. Mike sent us these pictures of one he retrieved from an attic and Tom has just obtained one without the movement. We will update to Tom's restored clock once it's done.
12 1/2" H X 6 3/4" W X 9 1/2" D
---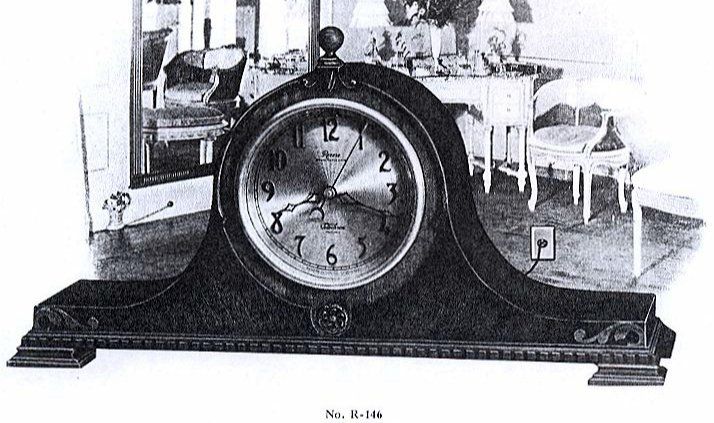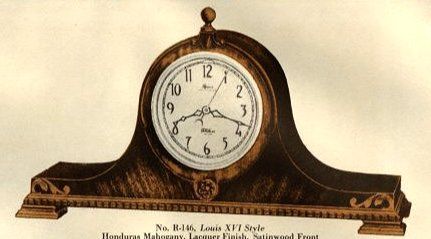 Make: Revere
Model Number: R-146
Date: 1930
Name: Louis XVI

Case: Honduras Mahogany, Satinwood front, striped Mahogany overlay.
Dial: Silvered with raised black numerals.
Details: An elaborate and detailed clock with overlays, ornaments and carvings. The B&W picture is from the 1930 catalog and the color one to the right showed up in a 1931 brochure. Also available in a Time and Strike (R-346) and a Ship's Bell (R-546) version. Original cost $78.
10 1/4" H X 20 1/2" W X 6 1/2" D
---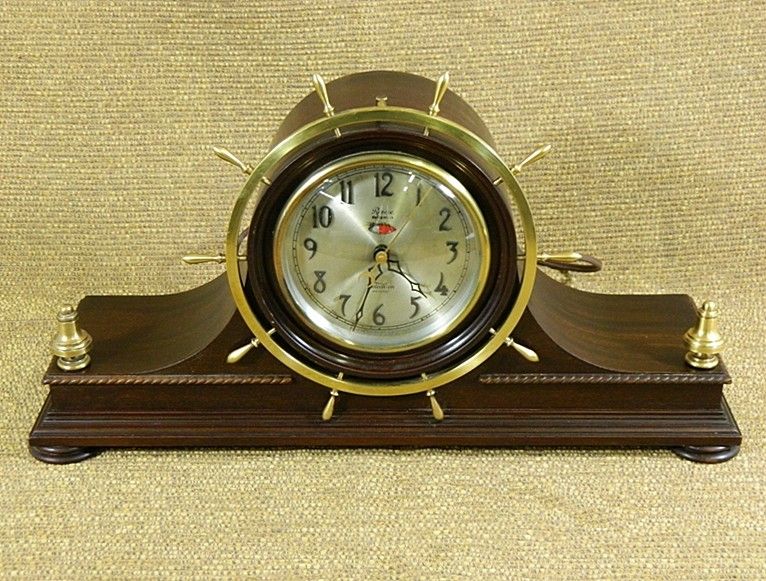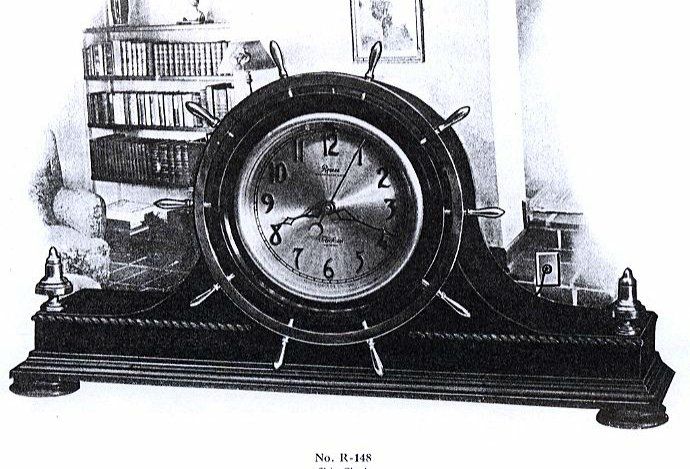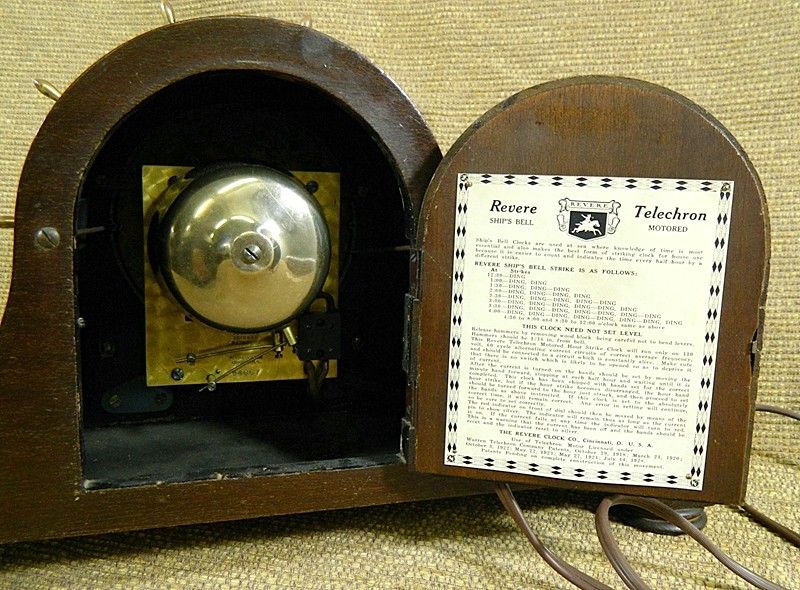 Make: Revere
Model Number: R-148
Date: 1930
Name: Ship Clock

Case: Mahogany with brass ornaments
Dial: Silvered with raised numerals.
Details: It's interesting to note that although this clock is a Ship's Bell clock, and in fact does come in a Ship's Bell version (R-548 at $74, it was advertised in the catalog (seen at right) with a Westminstyer chime at $89. Brass spokes around the dial and brass ornaments on either end.
We found the pictures of an actual Ship's Bell model online, so with this movement in it, it is technically an R-548. A very interesting and great looking clock.
11 5/8" H X 21 1/2" W X 6 5/8"D


---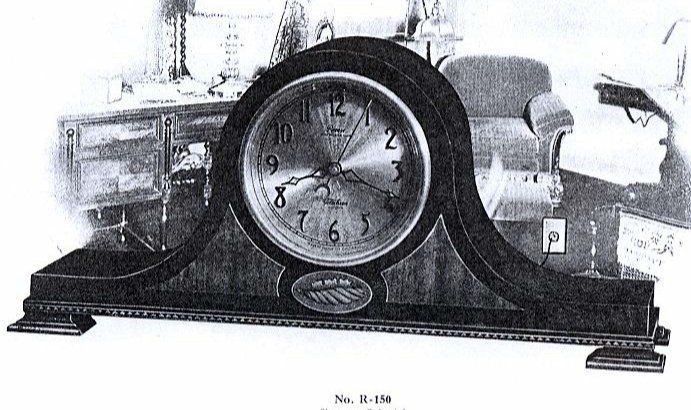 Make: Revere
Model Number: R-150
Date: 1930
Name: Sheraton Colonial

Case: Honduras Mahogany with Satinwood and Marqueterie Overlay.
Dial: Silvered with raised black numerals.
Details:A basic tambour style that uses inlay design and overlays along with carving and fancy wood feet. Slightly smaller than some of the earlier models. Westminster chimes - $75
9 1/8 H X 20 1/2" W X 6 1/2" D
---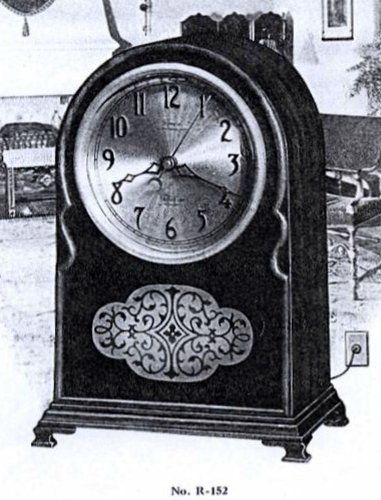 Make: Revere
Model Number: R-152
Date: 1930
Name: Queen Anne
Case: Walnut with Walnut Burl front and Marquerterie overlay.
Dial: Silvered with raised numerals.
Details: A basic Gothic style clock with beautiful burl and Marquerterie overlays and ornate trimmings. Another extrememly rare clock that we have never seen and would sell for a high price anywhere. Sold for $80. Also available with a Time and Strike (R-352) and a Ship's Bell (R-552).
12" H X 9" W X 5 3/4" D


---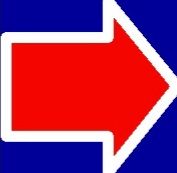 CONTINUE TO NEXT PAGE