Revere Chiming Clocks
The following pictures are from Revere Catalogs and/or actual Revere clocks that we have serviced or sold, plus additional pictures provided by viewers and from Tom's vast collection.
We have listed the clocks in numerical order by Model Number. Please note that we are continually working on these galleries with new clocks being added as we receive new information and pictures. If your clock is not pictured here it does not mean it doesn't exist! We probably haven't gotten it listed yet, or are unaware of it and do not have any pictures or documentation.
Click on any picture to enlarge
Page 12

Revere ID Home Revere-Page 1 Revere-Page 2 Revere-Page 3 Revere-Page 4 Revere-Page 5 Revere-Page 6 Revere-Page 7 Revere-Page 8
Revere-Page 9 Revere-Page 10 Revere-Page 11 Revere-Page 12 Revere-Page 13 Revere-Page 14 Revere-Page 15



---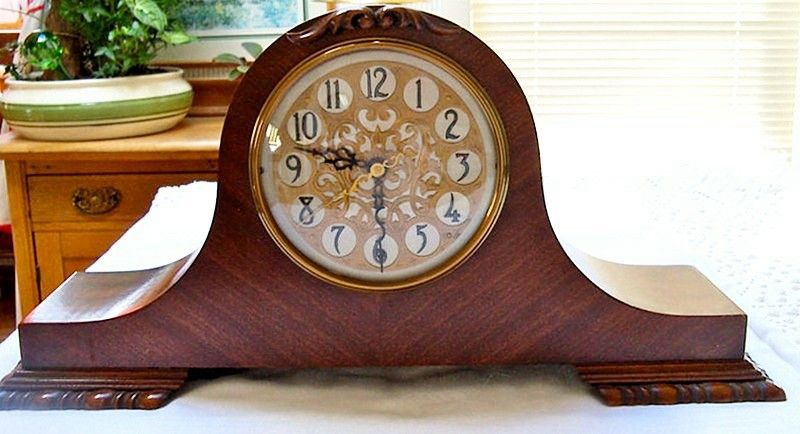 Make: Revere
Model Number: R-943
Date: 1947

Case: Diagonal grained Mahogany veneer, raised feet.
Dial: Silvered dial with raised bronze numerals and raised gold design.
Details: Tambour style with book,atched diagonal Mahogany on front and hand carving applied at top front. Uniques open gold dial shows silvered base and bronze numerals.
9 1/2" H x 19 3/4" W X 6" D
---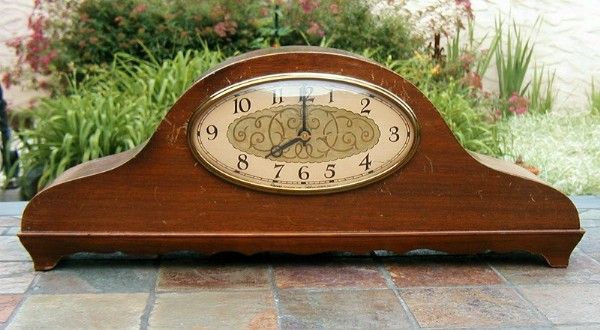 Make: Revere
Model Number: R-945
Date: 1948

Case: Grained Mahogany.
Dial: Antique Ivory numeral circle with polished scrolls on satin finished center.
Details: A simple plain loooking tambour with gentle carving on the base. An unusual dial for Revere makes this different from most others and adds a touch of elogance. Sold for $72 in 1951.
7 7/8" H X 20" W X 4" D

---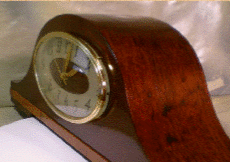 Make: Revere
Model Number: R-947
Date: 1959

Case: Mahogany with Burl overlay stripe along the bottom.
Dial: Open oval - Silvered with painted black numerals.
Details: An unusual looking tambour with a low design and large open dial. Appears to be the cousin to the R-945 from 1948.
---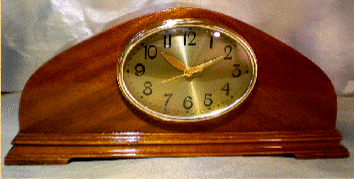 Make: Revere
Model Number: R-951
Date: 1959

Case: Mahogany .
Dial: Silvered with painted black numerals.
Details: A modified large tambour style that we've only seen a few of. This clock was also made with the same case and a different dial and was labeled the R-459.
---
Make: Revere
Model Number: R-953
Date: 1955-65

Case: Mahogany with carved relief.
Dial: Open Silvered oval with painted Roman numerals.
Details: A cathedral style clock that was made from the fifties into the sixties. The earlier models used the B rotor movements but after 1960 the movement was changed to the smaller movement using the H rotor. An easy way to get a quick check on the date of your clock.






---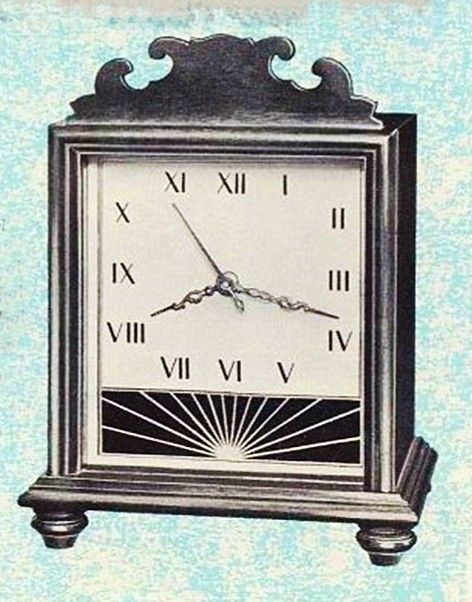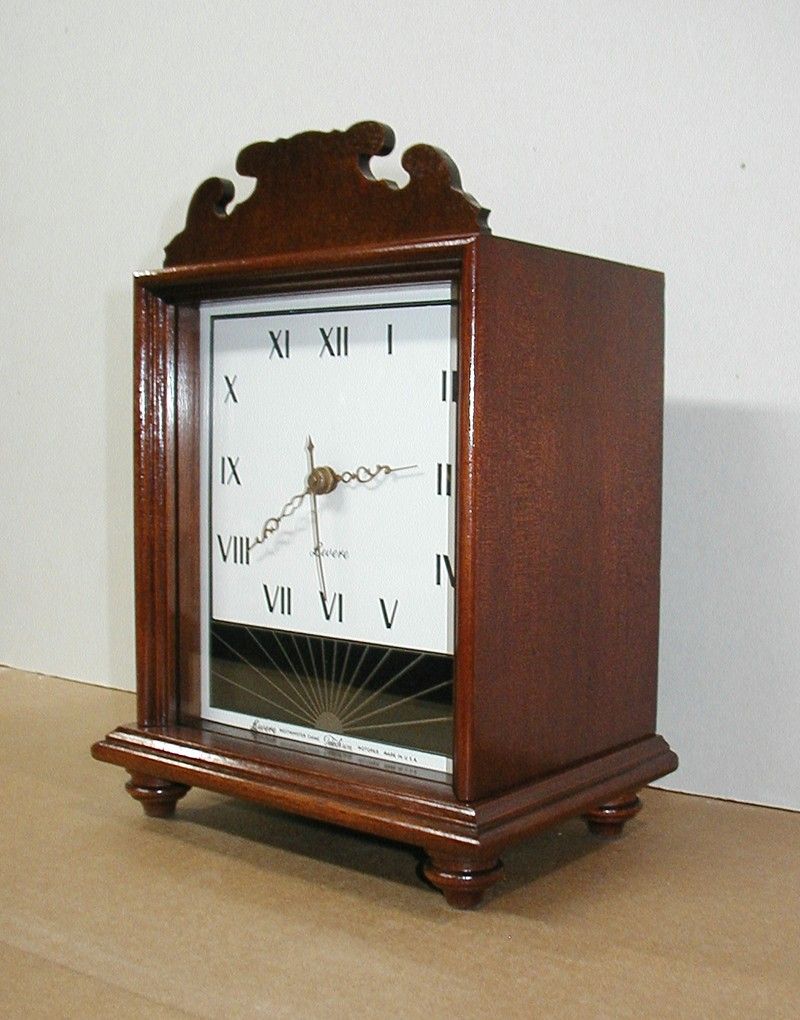 Make: Revere
Model Number: R-955
Date: 1953

Case: Mahogany with scroll work pediment.
Dial: White painted with black and gold sunburst design and Roman numerals.
Details: 'Strikingly simple with sunburst design in black and gold. White dial in charming Mahogany case. Black numerals and gold color hands'. Full Westminster chimes. List:63.00; Retail:$75.60.
11 1/8" H X 8 1/4" W






---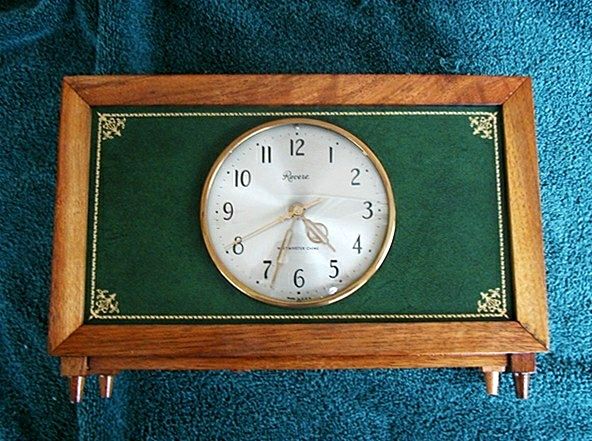 Make: Revere
Model Number: R-963
Date: 1960
Name: Henley
Case: Walnut case with front of leather and brass feet.
Dial: White dial with black numerals and brass hands.
Details: A simple mitered construction box of Walnut with gold embossed leather front. Decorative gold hands, polished brass bezel and brass feet.
8" H X 12" W X 4" D




---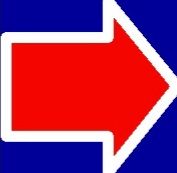 CONTINUE TO NEXT PAGE