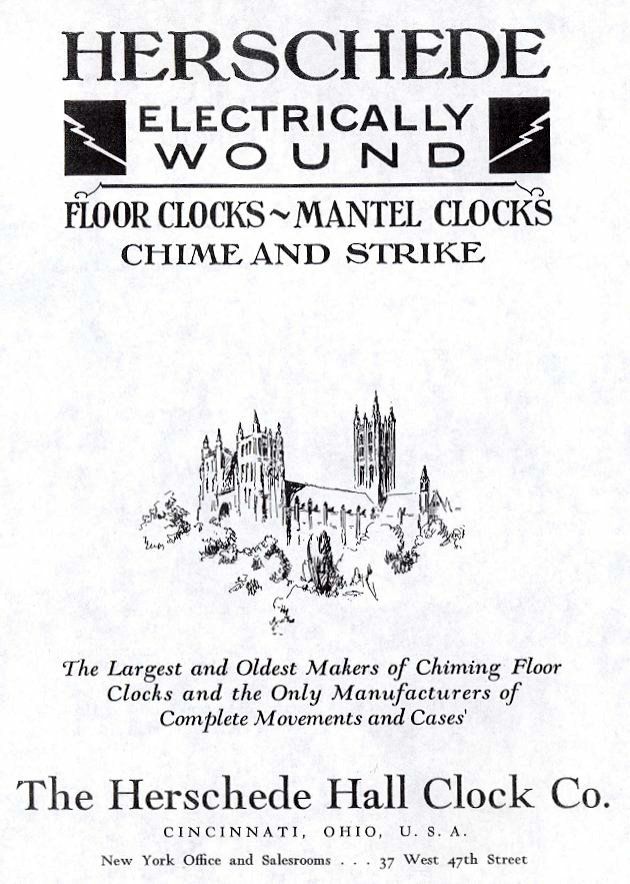 From a 1929 Herschede Clock Company catalog:
Probably no item of home furnishing is as popular as as the Mantel Clock. Certainly no other item adds so much to the appearance and the "atmosphere" of a home. Herschede Mantel Clocks have long been popular sellers because of their beauty of design - their accurate, dependable timekeeping - and their moderate price.

With the coming of the the Electrically Wound movement, Herschede Mantel Clocks have become more popular than ever. This type and size of clock best meets the requirements of a large class of customers. Every home is a prospect for one of these charming electrically wound clocks. They are ideally suited to the living room, library, den, bed room , etc.

The same high standards of design and workmanship in both cases and movements for which the Herschede Floor Clocks are famous are manifested in Herschede Mantel Clocks. The same careful selection and matching of the woods - the same delicate and artistic carving - the same superlative finish are evident. Every one of these clocks carries our guarantee of accurate, dependable timekeeping.
Herschede Electrically Wound mantel clocks were a new innovation for the world of clocks. Instead of having to wind the clock manually an electric motor did the job for you. They were based on the traditional spring-wind movements and although they used the Telechron "B" rotor, are quite different from the all electric movements made by Herschede and it's new company- Revere. In case of a power failure. the spring was wound to keep the clock running for 24 hours after power outage. These movements only lasted several years and were replaced with the Telechron Motored all electric Revere movements which were more simple in design and required less maintenance. You can read more about how The Revere Clock Company got started HERE.

More from the catalog - "An New Epoch in Clock Design":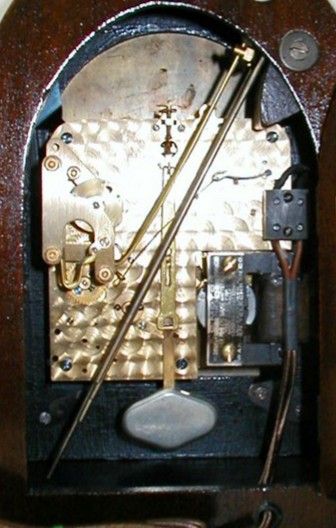 Here truly is an epoch marking departure in fine clockmaking. In these new Herschede clocks the bother of winding - the chance of forgetting to wind - is entirely eliminated. Electricity takes over this job - this responsibility. A small powerful motor winds the time spring and operates the chime and strike direct. Time and chime from any electic socket. Electric Time! Electric Chime!
We have decided to put together a picture and information gallery of these beautiful clocks. Similar to our Revere Clock Gallery, this will be one place to view and obtain information on this seldom looked at area of Electric Clocks. We invite viewers to submit pictures and information of their own clocks so we can add to our collection. There will also be a short Herschede Clocks history page and information on the various chimes used in these and Revere chiming clocks. We are limiting this area to Mantel style clocks only. There are plenty of galleries depicting Herschede Grandfather, Grandmother, and Tall Case clocks on the Internet and our exposure to these clocks is limited. Please note that we DO NOT do service work on these clocks - only on the Telechron movement Revere, GE, and Herschede electric chiming clocks.