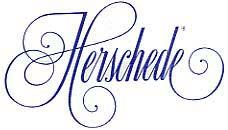 HERSCHEDE CHIMING CLOCKS

WELCOME PAGE
HERSCHEDE HISTORY
HERSCHEDE GALLERY
REVERE HISTORY
REVERE GALLERY
WESTMINSTER REPAIR SERVICE
History of The Herschede Hall Clock Company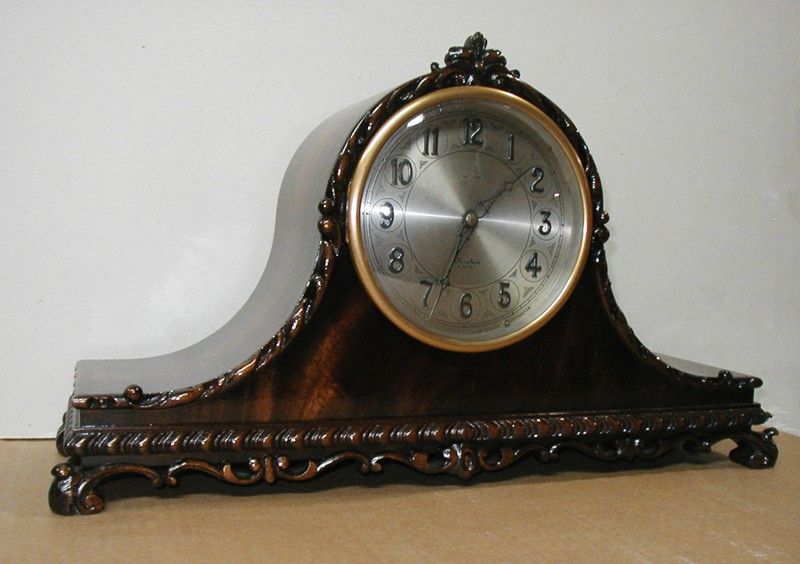 A Brief History and Timeline of the Herschede Clock Company
-

1857

Frank Herschede born July 30 Cincinnati, OH

-

1872

Apprenticed as a clock repairman as a teen

-

1877

Went into business for himself- jewelry, watches, diamonds, etc.

-

1885

Started importing clock movements and had cases made at a local cabinet shop in Cincinnati

-

1900

Bought out the cabinet shop as business expanded

-

1901

Won his first medal in an Exposition in SC - one of several he won

-

1902

Son Walter graduated from high school and went to work in the cabinet shop

-

1903

Incorporated as the Herschede Hall Clock Company at the end of 1902 and moved into larger building

-

1904

Won several medals at the Louisiana Purchase Exposition in St Louis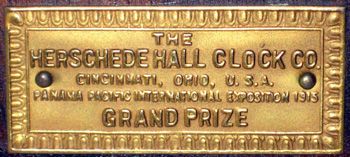 -

1909

Started making clock movements in the building next to the cabinet shop

-

1911

First movement manufactured and put in production

-

1913

A third melody was added to the Westminster and Whittington chimes - the Canterbury Chimes. Some accounts credit a Joseph Eisen (an American pianist) as developing the melody for Herschede, other credit a Herschede employee.

-

Early 1920s

Branch offices were established in NYC, Chicago, and San Francisco

-

1922

Frank dies and son Walter named president in early 1923

-

1925

Walter starts working with Henry Warren of the Telechron Clock Company on developing electric movements

-

1926

Introduces an Electrically Wound movement with a pendulum and spring. Lasts only a few years as the Revere all electric run clocks gain popularity

-

1926

Revere Clock Company comes into existence to sell electric chiming clocks

-

1927

Introduces a line of smaller clocks - a Grandmother and a Petite

-

1929

Employs just over 300 employees, but the Great Depression reduces demand for their clocks

-

1933

Changes it's focus and introduces an inexpensive line of electric clocks - Crown Clocks

-

1934

Walter's son Dick Herschede starts work with the company

-

During WWII

Stops making clocks and manufactures instruments and opticals for the Military

-

After WWII

Starts producing parking meters

-

1952

Starts using imported Junghaus movements in its non-tubular bell clocks

-

1960

Plant moves to Mississippi

-

1973

Mergers with Howard Furniture and Brianwood Lamps to become Arnold Industries, Inc.

-

1983

Herschede Hall Clock division restructures from a manufacturer of finished clocks to a supplier of quality tubular bell movements

-

1984

Last three clocks manufactured

-

1989-1992

Briefly resumes clockmaking producing about 20 clocks under the ownership of Howard W. Klein and Robert Eggering of St. Louis, MO. The firm was then sold to R&M Imports of Waynesville, OH, which manufacturers replacement parts for existing Herschede clocks.
---
EDGEWATER * FLORIDA * USA
info@SilverdollarProductions.net
© 2000-2012 Silverdollar Productions, Inc. All rights reserved.
The GE, General Electric, Telechron, Herschede, and Revere
names, trademarks, and logos are copyrighted by their individual companies.

This page is printed on 100% recycled paper